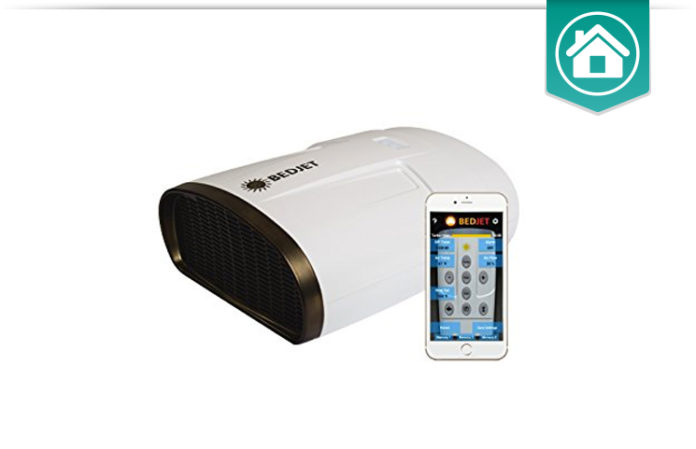 Sleep is an often overlooked part of a healthy lifestyle. However, during deep, uninterrupted sleep, people recover from their days, allowing their minds and bodies to rejuvenate so they can face the new day with energy and focus.
Unfortunately, falling asleep is getting more and more complicated, especially for those who struggle between being too hot or cold during the night.
BedJet is an innovative climate control system. Designed to create either a cooler or warmer sleeping environment by blowing air into AirComforter sheets or linens, BedJet is ideal for partners who have different sleeping preferences and struggle during the night.
With the ability to change temperatures at any time, BedJet does not require the need to change mattress pads or toppers and gives users the flexibility to change their preferences.
What Is BedJet?
Studies have shown that more than half of the couples in America have different sleep temperature needs, making it uncomfortable to sleep together. In an effort to combat this problem, BedJet was created.
BedJet was designed by engineers and inventors who formerly worked with NASA to create climate control systems in space suits. With this amazing team of engineers and sleep doctors, BedJet is unlike any bed warming or cooling product on the market.
The design team created dual temperature zones in beds, so even couples can get their exact temperature of choice. Much like the sleep number beds which separate mattress angle preferences, BedJet allows couples to sleep closer than ever and remain comfortable.
Because being uncomfortable during sleep can cause sleep loss, strain, and anxiety, BedJet uses their patented technology to create independent cooling and heating zones for each half of the bed.
To use the BedJet Dual Zone system, each partner is equipped with a remote control that determines the temperature on their side of the bed.
The BedJet Dual Zone technology comes in an order of two BedJet machines that are combines with their Dual Zone AirComforter sheet. The AirComforter sheet replaces a regular top sheet linen and works under blankets, duvets, quilts, and traditional comforters.
BedJet Features
In addition to featuring an innovative dual zone cooling and warming climate control system, BedJet also offers a diverse range of options.
With acoustic damping technology and Bluetooth ability, the Bedjet is microprocessor controlled, air driven climate control machine that suits any bed.
Coming in a compact design, the BedJet becomes part of the bed with little to no hassle. Although BedJet is technically an extension, the machine sits discreetly under the bed, blowing cool or hot air unnoticed.
Because it can be used remotely, BedJet offers user the ability to download a free mobile app that is paired with the device. Via Bluetooth, users can control temperature, timers, and alarms.
Changing the temperature and airflow of the BedJet requires entering an exact number on the remote or on a smartphone or tablet.
This process also applies to the timer feature, which allows users to set how long they want the BedJet to regulate temperature for their side of the bed.
One of the most innovative features of the BedJet is that it is equipped with biorhythm sleep technology. This feature provides users with a precise control of the cooling and heating cycles through the night.
The biorhythm option is based on a personalized plan that shows the times that cool air and warm air will be blown to be adjusted.
During the REM sleep, the deepest part of the sleep cycle, the BedJet begins to pump cooler air in decreased rates. Having a cool sleeping environment is beneficial during the REM cycle because it improves quality of sleep.
During the sleep cycle, the airflow will continue to increase or decrease depending on how the biorhythm questionnaire is filled out by users at setup.
Offering a customizable system, BedJet provides users the opportunity to better understand their sleep cycle and improve sleep habits. BedJet is so much more advanced than other products that provide temperature adjustments in beds, such as electric blankets.
Not only is BedJet customizable and diverse, it is also safe.
Unlike electric blankets, BedJed offers a versatile method to change temperature, airflow, and the environment without the dangerous of having live electricity in the bed.
A safer alternative to electric blankets and heated mattress pads, BedJet outperforms all other heating and cooling products
Purchasing BedJet
BedJet is available for purchase on the company website. For a limited time, the company is offering a 15% off special sale price, making the queen size bed option of the Dual Zone Climate Comfort System $789.