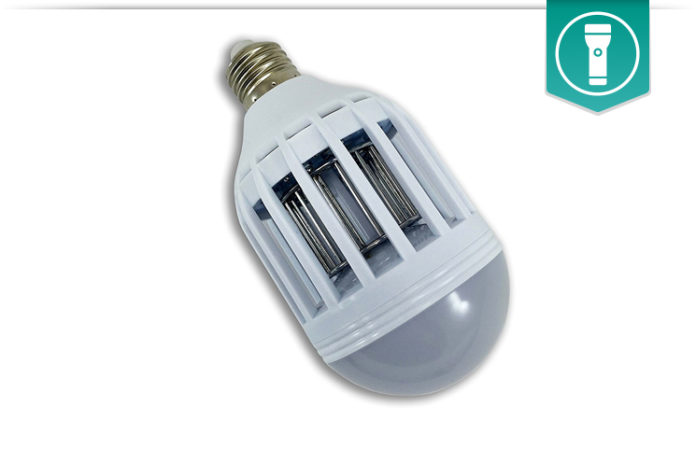 Buzz Light is an LED bug zapper that promises to attract and kill winged insects around your home. Find out how this As Seen On TV product works today in our review.
What Is Buzz Light?
Buzz Light is an As Seen On TV product designed to zap mosquitoes and other flying insects around your home.
Buzz Light consists of a 75 watt LED bulb that attracts mosquitoes. Then, an electronic zapper kills the mosquitoes when they come close.
The light doesn't actually work on its own. You need to attach it to an existing light socket – like a light that you use outside. There are no batteries or other power options. You need to screw it into an existing light bulb socket.
In any case, Buzz Light makes big claims about its effectiveness. It claims to attract "any winged insect within 500 feet", for example, and make your home safe-to-use again. It's also chemical-free.
How Does Buzz Light Work?
Buzz Light is a straightforward device. You screw the light bulb into an existing light socket, then turn on the light. Buzz Light has a 75 watt LED bulb.
This bulb's bright light attracts mosquitoes and other winged insects. When they get close to the bulb, they come in contact with the electrical grid, zapping and killing the insects as soon as they touch it.
Buzz Light claims to last 50,000 hours for each single bulb.
Buzz Light Pricing
Here's how pricing works out for Buzz Light:
1 Buzz Light: $27.98 ($19.99 + $7.99 shipping)
2 Buzz Lights: $37.98 ($27.98 + $9.99 for the extra Buzz Light)
Like with many As Seen On TV products, shipping takes an unusually long time. After you purchase Buzz Light, you'll get a notification saying that your order will take 3 to 6 weeks to ship. Some customers do get their Buzz Light before those 3 weeks, however.
All Buzz Light purchases come with a 30 day refund policy.
Who Makes Buzz Light?
Buzz Light is made by As Seen On TV company Telebrands, which is one of the best-known and longest-running names in the As Seen On TV industry. Telebrands is responsible for well-known products like Mighty Blaster, Lazer Bond, Pocket Hose, and Ped Egg.
Telebrands is based in Fairfield, New Jersey. You can get in touch with them by phone at 1-855-668-1655.
Buzz Light Summary
If you've ever used a handheld bug zapper before, then you know what to expect from Buzz Light.
Buzz Light combines the attractive power of a bright light with the bug zapping power of an electronic mesh. Bugs fly towards the light, get caught in the mesh, get electrocuted, then die.
Each Buzz Light is priced at around $30 (or $40 if you buy two). You can exclusively purchase them online or over the phone – you won't find them in stores.
Given that price, you may be able to find a cheaper pest control option. However, if you want something you can plug in and forget about, then Buzz Light may be the best option for you.
The only restriction is that you need to plug it into an existing light socket – so if you don't have any working lights around your home, then this may be an issue.
You should also consider the fact that you're removing a light to make way for Buzz Light. So if you have one light illuminating your deck, and you replace that light with Buzz Light, then you might be sitting in the dark for a while.
If you don't mind these restrictions, then Buzz Light is available to purchase online today for $28 (for one) or $38 (for two).