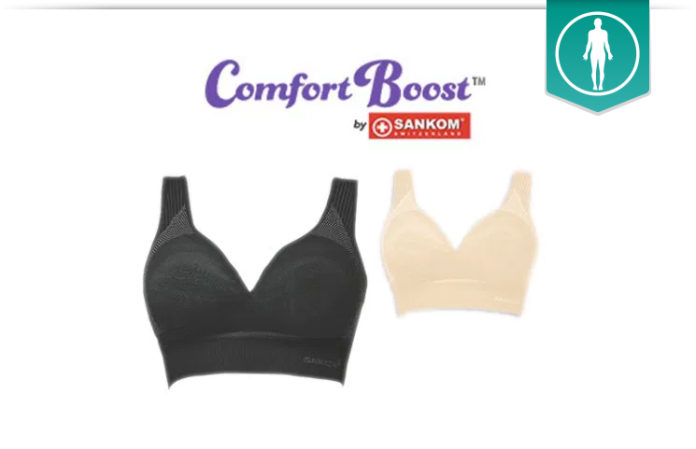 More and more women are starting to dread wearing bras. Today, most bra designs contain wires, are not comfortable and leave unwanted marks once removed.
This makes it frustrating and painful for women. Some bras bring negative effects such as poor posture, have breasts spilling out of either the top or bottom of the bra and is so tight on one's back that it looks bulky.
For such reasons, many are retorting to wearing no bra at all, but this is also not safe because for women with larger breasts, it will just worsen back pain and for any women in general, breasts will just start to sag.
Comfort Boost bra by Sankom is made to achieve maximum comfort, ensures breasts are in place, eliminates strap marks, bulking back and spillage of one's breasts out of her bra.
In other words, Sankom has taken every single concern expressed by women and has created a single solution that is certain to satisfy every cup size out there.
How has Sankom achieved all of these benefits? Let's take a closer look at Comfort Boost bras in detail.
What Is Comfort Boost bra?
Comfort Boost bras are one of a kind bras that are made to lift, support and improve one's posture.
Women no longer need to fear of sagging and shapeless bras as the Comfort Boost bra's design is made to lift each breast and shoulder in place.
Each Comfort Boost bra is made with breathable, hypoallergenic material that is responsible for achieving maximum comfort.
This bra contains neither hooks nor straps that will leave unwanted redness and deep skin marks.
How To Wear A Comfort Boost Bra?
This may seem like a rather naive topic to speak of, but it nonetheless important. Most bras require women to attach the hooks prior to slipping into their bras, the Comfort Boost bra is to be stepped into like wearing a pair of pants and then it is lifted up to one's breasts.
Each Comfort Boost bra is made with two independent stretches, which provides each breast its own required support.
Not only is support achieved, but also breasts are now in shape and lifted to where they belong.
Comfort Boost Bra Benefits
Each bra ensures that women can breathe
It is a one size fits all, therefore all cup sizes are certain to benefit from them
Lifts, supports both breasts and one's posture
Can be worn all day
Comes with removable padding and is washing machine friendly
Comfort Boost Bra Pricing
Comfort Boost bras are made in two colors; black and nude and its current going price of a Comfort Boost bra is $39.95.
This is fairly reasonable, as most bras are more or less around $40. However, this respective bra consists of a wide ranges that are certain to provide comfort and protect one's breasts without additional pain, making it all the more worthwhile.
With the purchase of one Comfort Boost bra, women get a second nude Comfort Boost bra free of charge and at a free shipping rate. Ultimately, women are now getting two bras for the price of one, making this a great investment.
Comfort Boost Bra Summary
Overall, it is important to ensure that one's breasts are fully covered and protected. Wearing the wrong types of bras can result in unwanted illnesses in the long run, which at some point can be life threatening as well.
For something so fragile as breasts, women need to ensure that the bras they wear are comfortable, doesn't deteriorate their posture and provides maximum support.
For an innovative bra that solves many women's concerns, check out Comfort Boost bras by Sankom on their website.