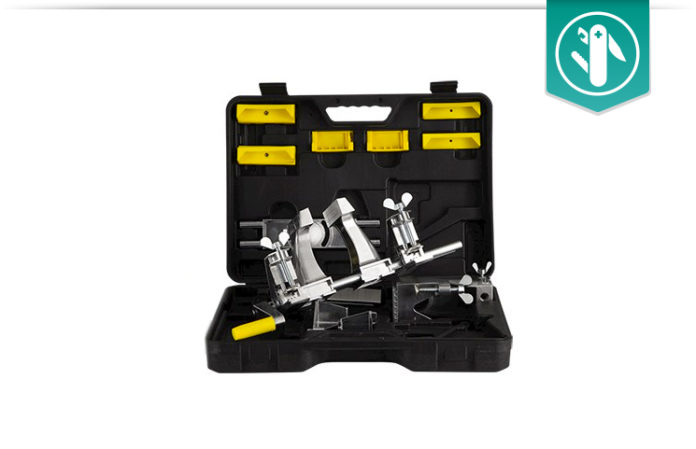 If you are trying to complete a project or handiwork, you know how hard it can be when you run out of 'hands' to help you hold things and complete your projects in time.
We will be discussing a portable, patented clamp system called Extra Pair of Hands by Renovator today in this review, and helping you decide if it is the right product for you.
What Is Extra Pair Of Hands?
Extra Pair of Hands by Renovator is a product that holds your work so that you can complete your project with ease. It is a patented clamping system that will hold your work in place, steadily so that you can safely work around it and complete whatever you need to do.
How Does Extra Pair Of Hands Work?
The Extra Pair of Hands kit is made with high grade alloy metal, and it comes with a lifetime guarantee. They guarantee that your Extra Pair of Hands will work with any object, any time, anywhere!
Extra Pair Of Hands Benefits
Other benefits of the Extra Pair of Hands by Renovator include:
-The Extra Pair of Hands makes it easier and safer than ever before to clamp down projects for work
-This kit comes with hundreds of dollars worth of free accessories
-This kit is fully portable. It fits entirely into one easy to transport box for convenience and ease of use
-It is approved for use on projects that include sawing, planning, grinding, carving, or anything else that needs held down securely and safely. Many of these type of projects require a steady hand because your safety depends on it!
Put your trust into a product that will ensure your safety as you work
-You can use the Extra Pair of Hands accessories for 20 unique functions including:
Slash Clamp
Jack prop
Floor Clamp
Hand Jack
And more!
Included in the kit are Extra Pair of Hands patented clamping vice, 2 bench clamps, end stop, 2 turning centers, turntable, drill holder, metal jaws, soft jaws, tube clamping jaws, mounting pads, neoprene pads, cork pads, sandpaper pad set, sure grip pads, nylon weave polishing pads, leather pads.
This kit will ensure that you have everything you need to hold the clamps in place and make your project the best you can!
Extra Pair Of Hands Creators
The Extra Pair of Hands is created by a company called Renovator. Renovator sells tools and tool supplies on Amazon.com
The Extra Pair of Hands by Renovator is available for sale on Amazon.com for $199.99 plus shipping and handling.
Extra Pair Of Hands Summary
If you are a workman looking for a versatile clamping tool, want to add to your collection, or want to make sure to get the job done, the Extra Pair of Hands by Renovator kit may be the right product for you.
It contains an entire clamping kit for you to avoid having to purchase more clamping or holding products, and can help you finish your projects with one easy kit. For more information about how the Extra Pair of Hands can benefit your project, visit their website.
You can learn more about the Extra Pair of Hands, check out what is included in the kit, and place your order on Amazon.com. You can also browse through reviews of customers who have purchased the kit and leave feedback of your own as well.