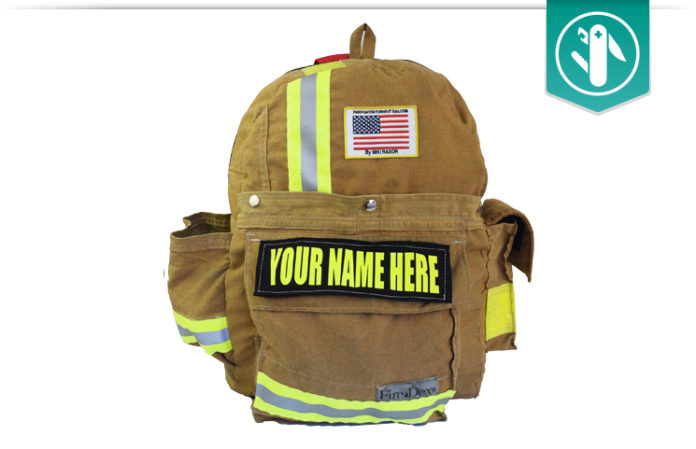 Firefighter wife, Niki Rasor, has created a unique business that focuses on patriotism and reusable material.
Instead of discarding old and retired firefighter turnouts, the founder decided to recycle these garments and help to reduce the carbon footprint on the planet and show support for firefighter all over the country.
Committed to preserving the integrity of the environment, Rasor found a creative way to use her skills and recycle firefighter gear.
With a growing movement, the Firefighter Turnout Bag company puts time and effort into every product, ensuring that it is of the highest quality and made to order.
What Are Firefighter Turnout Bags?
Believing that firefighter turnout gear should be treasured and not discarded, Firefighter Turnout Bags is committed to preventing retired turnouts from ending up in landfills.
Offering customers with the unique privilege of owning a bag that was used by a firefighter, the company reminds the public of the sacrifices that are made by firefighters around the country.
Featuring a broad variety of styles for men, women, and children, the company has something for everyone in the family.
In addition to using undamaged gear, fortunately, the company also has an extensive cleaning process for all of the products that they use. Once the gear has been received, the company puts all of the product into an extractor.
After being removed from the extractor, the gear is cut and intensively scrubbed. After the gear is scrubbed, it is cut into a bag and then sewn. After the gear has been assembled and sewn, it is washed again.
Because the gear is essentially washed three separate times, customers do not have to worry about the sanitation of the bags.
Since each Firefighter Turnout Bag item is handmade, there are two types of options that are available to customers. There are custom made orders and in stock orders.
Because each custom order can take up to 6-10 weeks from start to finish, customers should expect a wait on these items. After the order has been placed on custom options, it can take up to 1-3 to ship domestically and 6-10 days internationally.
For those who do not want to wait that long, Firefighter Turnout Bags always has a selection of in stock bags that can be ordered and shipped within two days.
Because the bags at Firefighter Turnout Bag are made out of repurposed firefighter turnout gear, customers are provided with information on how to keep the bags clean.
Firefighter Turnout Bags Uses
Firefighter Turnout Bags currently offers a diverse range of products. From backpacks to messenger bags, options are limitless.
For individuals who already possess firefighter turnout gear, the company offers customers the opportunity to send their retired gear to Firefighter Turnout Bags.
With a variety of options, individuals can use their own gear to make a custom bag for themselves or family members.
To create a customized order, individuals must fill out a form that outlines what gear they will be sending and which bag they would like for their design. For those who use their own gear, it must be washed before it is sent, as it will immediately be cut and sewn into a bag.
Determined to make use of all retired gear, for those who have firefighter turnout gear but do not wish to use it to create a bag, Firefighter Turnout Bags offers to purchase these retired pieces.
Firefighter Turnout Bags pays $5 for every piece of gear that is sent and the company will reimburse the shipping fees of the donation.
Offering a cash return or store credit, donors have the option of receiving products worth the amount of the donation or accepting a gift certificate or check.
Purchasing Firefighter Turnout Bags
Offering shipping worldwide, Firefighter Turnout Bags are available for purchase on their website. More information about the company can also be found on the website. The prices for the various products range from $37-$295.