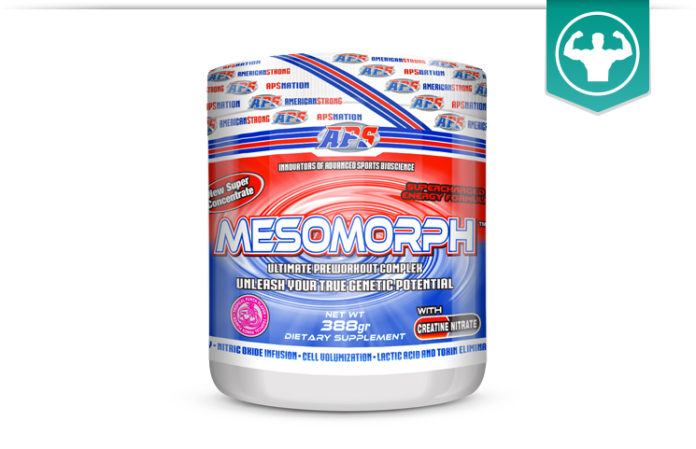 Pre-workout supplements are used by a variety of people, including gym-goers, fitness experts, and body builders.
The unique blend of ingredients found in pre-workout powders and supplements are able to increase the user's size in a short amount of time.
In addition to dramatically increasing the user's size, strength, and endurance, another key benefit to these supplements is that they can be easily consumed while on the move, and often do not require a lot of preparation beforehand to serve.
The huge amount of supplements available today means that it can be hard to know what products are the real deal in terms for their potency and performance, but there are some that have been vouched for by the fitness community at large.
One brand of supplement that stands out from the rest due its positive reviews and potent formula is Mesomorph by APS Nutrition
What Is Mesomorph?
APS Nutrition claims that Mesomorph is the king of pre-workout powders. Mesomorph is apparently the complete pre-workout powder on the market that can deliver full clinical dosage amounts of its state of the art ingredients.
Additionally, the supplement is free from fillers, binders, and sugars.
It is claimed that Mesomorph is the first of its kind to deliver full doses of its key active ingredients, not half that are apparently seen in others formulas.
Mesomorph contains 388 grams per jug of its concentrated formulation, not pint-sized products offered by other brands.
Mesomorph Benefits
There are a variety of benefits that users can enjoy from consuming Mesomorph on a regular basis. These benefits have been summarized below:
Supercharged energy formula featuring DMAA
Pre-workout complex with Creatine Nitrate
Unleashes one's genetic potential
Greater muscle gains and improved athletic performance
Mesomorph Uses
As Mesomorph claims to be one of the highest rated supplements available, it can be taken as a traditional pre-workout supplement, or otherwise used in conjunction with a stack of other products in order to improve one's overall health and longevity.
Although the workout supplement may be a valid means of quickly increasing the user's size, it is important to not consider the formula a magic solution that is guaranteed to work for everyone.
The company makes no specific claims of results for each person that takes it, as everyone's reaction to the formula will differ.
Like other supplements available, users who are serious about improving their health and fitness will be wise to combine this supplement along with a health and exercise program to get the most out of it.
Simply taking this supplement and doing nothing else to improve their bodies could lead to disappointing results overall.
One is directed to mix Mesomorph in a large glass of water or milk, and stir vigorously. After the formula has settled, users should consume it immediately or refrigerate it for future consumption.
The formula takes around three to four weeks in order to start seeing results, so one shouldn't be quick to jump to conclusions about its effectiveness.
Mesomorph Ingredients
There are a variety of natural and man-made compounds that are used in the supplement's formulation.
The full list of ingredients has been included here, and can also be seen on Mesomorph's website.
Beta Alanine
L-Citrulline DL-Malate
Arginine Alpha Ketoglutarate
DI-Creatine Malate
L-Taurine
Creatine Nitrate
Absorbic Acid
Creatinol-O-Phosphate
Agamatine Sulfate
Glucoronolactone
Methylxanthine Anhydrous
Nargingin
Geranaburn
Each serving of Mesomorph weighs in at 15.5 grams, which should be one scoop and each container has 25 servings.
Because most of the ingredients natural, users can enjoy using Mesomorph without the associated risks and side effects found in other supplements.
But as always, if one is unsure if they will be allergic to any of the ingredients listed above, then one should consult with their doctor or physician prior to consumption
Mesomorph Summary
Mesomorph is one of many pre-workout supplements that are available on the market today.
Through regular consumption of Mesomorph, users should enjoy a boost to their overall size and physical stamina, as well as working to supply vital vitamins and amino acids to parts of the body where they are needed the most.
The supplement can be freely purchased through the company's website, as well as via third-party shopping sites such as Amazon and other niche blogs in the fitness industry.
If users are curious about how the pre-workout supplement will work for them, then they are welcome to check out the reviews posted by other users.
The reviews are known to be impartial, so you can know for sure that they have been posted by actual users of the supplement and not representatives from APS Nutrition or other companies.
For a limited time, shoppers can enjoy free shipping of the supplement, so users should act quickly in order to secure this special deal.