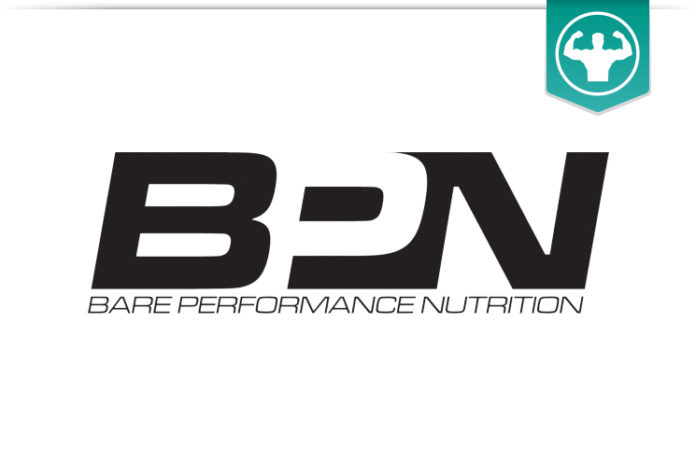 Bare Performance Nutrition (or "BPN" for short) is a line of sports nutrition supplements and gear designed to maximize workout performance. Here's our BPN review.
What Is Bare Performance Nutrition?
BPN is a line of several different sports nutrition products designed to provide your body the nutrition it needs to provide you energy before and during your workout as well as the important building blocks your body needs to increase muscle mass and recover better after working out.
Products include Creatine Monohydrate, Endo Pump Muscle Pump Enhancer, Flight Performance Amplifier, In Focus Cognitive Enhancer, Intra Flight BCAA Workout Formula, and Whey Protein. Also on offer are 25oz and 15oz shaker bottles for mixing powder shakes as well as apparel like tank tops, hats, and t-shirts.
BPN also sells gift cards for anyone who wants to provide a gift of BPN products to a friend or family member.
Bare Performance Nutrition Features
BPN works by providing essential nutrients that are ideal for anyone who is engaging in an exercise regimen. Ingredients like whey powder, BCAA, creatine and others have been used for decades as safe, legal alternatives to anabolic steroids and other bodybuilding substances. More information on specific ingredients can be found below.
Who Makes Bare Performance Nutrition?
BPN products are made by a company founded by Nick Bare in 2012 in western Pennsylvania, shortly before becoming a US Army Ranger. Bare developed the company while deployed to South Korea as an infantry Platoon Leader; the company is currently headquartered in Round Rock, Texas.
BPN focuses on integrity and label transparency in its products, billing itself as an alternative to sports nutrition companies that improperly dose and formulate their products. Instead, BPN is dedicated to creating and promoting supplements that maximize performance.
To that end, BPN products are all available with a 100% guarantee return policy for a full refund within 30 days of purchase from the BPN website.
Bare Performance Nutrition Ingredients
BPN's products rely on the following ingredients:
Creatine monohydrate – Clinically studied for the role it plays in promoting muscle growth. BPN uses Creapure-brand creatine in all of its products.
Citrulline Malate – Shown to enhance ammonia clearance during exercise, possibly increasing muscular endurance. It has also been shown to increase bicarbonates in the blood, which facilitates buffering lactic acid and helps support oxygen delivery to muscles, improving endurance and recovery.
HydroMax – A highly concentrated powdered blend of glycerol and silica, used for preventing dehydration by increasing concentration of fluid in blood and tissues. It has been shown to increase endurance, and exercise efficiency.
Cocoa Extract – Benefits include nitric oxide activation as an antioxidant and supporting healthy inflammation response. It stimulates the cardiovascular system and acts as a vasodilator to increase blood flow.
Agmatine Sulfate – Derived from the amino acid L-Arginine, this substance is released in response to stress or inflammation. It fills a vasodilator role to increase blood flow, helps in the delivery of nutrients
Caffeine Anhydrous – A known stimulant that has been found to provide extended endurance in moderately strenuous training.
N-Acetyl Tyrosine – A non-essential amino acid and a precursor for epinephrine, norepinephrine and dopamine, helping to provide better mental focus, energy, and alertness.
Huperzine A- A cognitive enhancer that increases levels of acetylcholine and muscle contraction.
L-Norvaline – An arginase enzyme inhibitor, paving the way to better conversion rates of nitric oxide.
Beta Alanine – A muscle pH stabilizer, preventing the excess build-up of acids as a result of intense training that would otherwise limit workout gains.
Betaine Anhydrous – A substance that may improve muscle strength and power production.
BPN products contain a large number of these ingredients in different combinations. Check your product's label for better detail.
Bare Performance Nutrition Pricing
BPN products range from $12.99 to $34.99 depending on the particular product and the size of its container. This is roughly equal to or even better than the price of most sports nutrition supplements offered from rival companies.
BPN products purchased from the website are shipped free to the US for orders over $99.
Bare Performance Nutrition Reviews
BPN products are well-reviewed by exercise aficionados and bodybuilders, making it a strongly performing brand. Little to no negatives have been found.
Pros:
Good Value for Money – BPN products offer a high number of servings for reasonable prices, making it a good value for money for anyone who is looking to make their budget stretch without having to sacrifice quality.
Good Gains – Reviewers who have used BPN products have reported moderate to good gains from using these products, making them effective sports nutrition supplements.
No Proprietary Blends – BPN doesn't rely on proprietary ingredient blends, instead providing transparent information about what's in each product. This has been a very popular choice with health-conscious bodybuilders.
Cons:
Limited Availability – Some complained that there's not an easy way to get BPN products outside of the website itself. These reviewers would prefer if more e-commerce websites offered the product.
Bare Performance Nutrition Summary
BPN products seem to be effective sports nutrition supplements. However, you can get that anywhere – what's more impressive is the company's commitment to transparency and its dedication to using quality ingredients while keeping costs down.
This makes BPN products an excellent choice for anyone who wants to know what exactly is going into the reasonably-priced and effective supplements they're interested in buying.