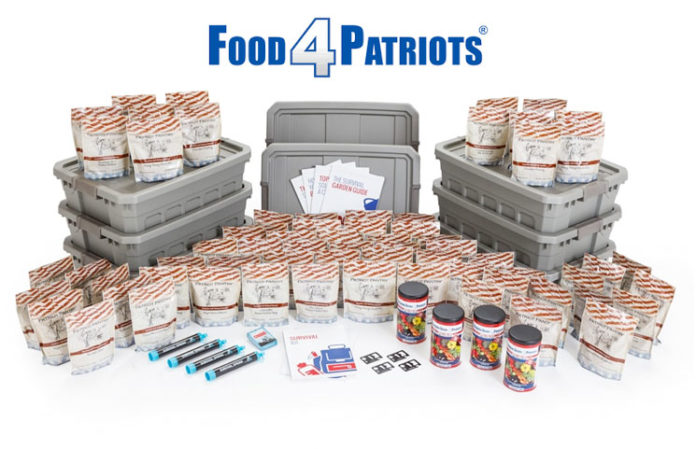 Survival product retailer 4Patriots, LLC recently launched a "free food" offer online. Does this offer really give you a 72 Hour Food Supply for free? What's the catch? Read our review to find out.
What is the Food 4 Patriots 72 Hour Food Supply Offer?
4Patriots is a survivalist company that sells a wide variety of gear, clothing, and food products online. In an effort to promote their company, 4Patriots recently launched a free survival food offer online.
That offer, found online at Food4Patriots.com, claims to give you a 72 Hour Food Supply free of charge. That food supply can be stored anywhere in your home, vehicle, or shelter. It has a 25 year shelf life and will keep an adult human fed for 3 days.
The food isn't actually free. You'll need to pay $10 for "shipping". 4Patriots claims the regular price is $27.
Is the 72 Hour Food Supply worth $10? Let's take a look at what you're getting.
72 Hour Food Supply Features
The 72 Hour Food Supply comes with all of the following:
Protects you and your family in a crisis
25 year shelf life and disaster-proof packaging
Tastes great, nutritious, and easy-to-prepare
Rated 4.5 stars out of 5 by 900 customer reviews online
Includes 16 servings of food, including four servings each of foods like Liberty Bell Potato Cheddar Soup, Blue Ribbon Creamy Chicken Rice, Traveler's Stew, and Granny's Home Style Potato Soup
All food is made by a family-owned company in Utah with 40 years of experience in the food industry. The company operates a USDA, FDA, and GMP-certified manufacturing facility.
It's also one of the few Level 2 Safe Quality Food (SQF) certified emergency food manufacturers in the country.
What's the Catch?
4Patriots is notorious for its anti-Obama, anti-left wing, and anti-gun control marketing. True to form, when asked what the catch is behind this free food offer, here's what 4Patriots has to say on their offer page:
"So what's the catch? You cover the $9.95 shipping. Because no, we're not communists. Because no, this isn't a government entitlement program. The food is free, the shipping is not."
Free food? That's communist propaganda! The website's offer page also explains that you should only accept the free food offer if you support the Second Amendment (that being said, the offer is technically open to everyone regardless of your political views).
It's easy to make fun of 4Patriots and their over-the-top marketing. However, to their credit, this offer does not appear to have any hidden fees, subscriptions, autobills, autoships, or obligation to purchase anything from the company.
They're genuinely giving out this offer in the hopes that you like the products so much, you'll buy more from them in the future.
72 Hour Food Supply Pricing
The 72 Hour Food Supply is priced at $9.95.
Your purchase comes with a 365 day money back guarantee. If you're unsatisfied with your purchase, you can return it for a full refund on your shipping costs.
4Patriots claims that this offer will only be available for a short period of time. However, it's been up for a few days no with no signs of being taken down.
The Food 4 Patriots 72 Hour Food Supply Summary
4Patriots is giving away free food online in the form of its 72 Hour Food Supply. Well, it's not actually free: you're paying $10 for "shipping". The normal retail price, according to 4Patriots, is $27.
That purchase gives you four packages of dehydrated emergency food, including two potato soups, one stew, and one rice dish. Each package contains 4 servings of the food.
There doesn't appear to be a catch behind this offer, aside from the fact that it's not actually free.
The company doesn't automatically sign you up for shipments of additional products. It doesn't even say that you're going to be spammed with emails or promotional offers.
Overall, 4Patriots appears to be offering a genuine "free" 72 Hour Food Supply online – the only catch is that it costs $10.
If you've always been curious about Food 4 Patriots and their dehydrated emergency food, then the 72 Hour Food Supply offer is a great excuse to check them out.