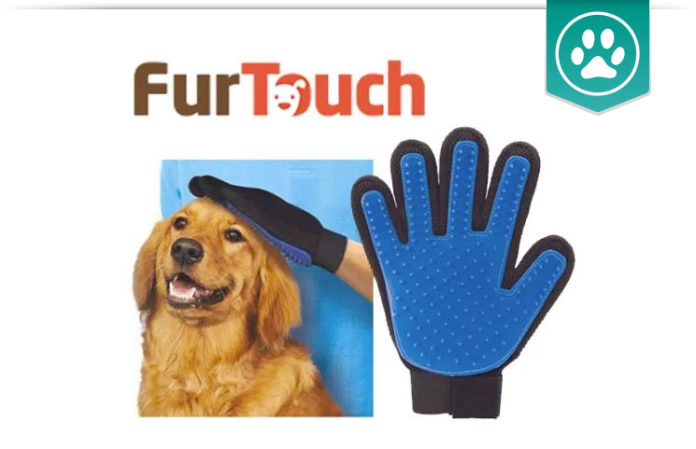 Caring for your pet isn't always easy, especially when it comes to the grooming process. Grooming your pet often involves numerous utensils and it can be a time consuming process as well if you want to do a perfect job.
If you're tired of taking forever to groom your pet and achieving subpar results, then you may want to consider adding a new and innovative product to your lifestyle called Fur Touch.
With this product, you can finally groom your pet and achieve great results, time and time again. Further, unlike most grooming products, this one is extremely easy to use on pets with any fur length, texture, and style.
What Is Fur Touch?
Fur Touch is a breakthrough grooming product that not only helps you care for your pet's hair more easily, but it also minimizes shedding in the process. The product is designed to work well on every pet, including cats, dogs, horses, and even bunnies.
The Fur Touch comes in the form of a glove so all you need to do is to slip it on your hand and start the grooming process. While grooming your pet's hair, you'll be able to get the job done quickly and easily and best of all, with great results.
No More Pet Hair Everywhere
There are many positive benefits to be had when you add the Fur Touch to your lifestyle, but one of the most prominent is that you can finally say goodbye to pet hair everywhere. The product does a great job at picking up those stray hairs from your pet's coat so that your pet won't shed everywhere any longer.
In order to remove the pet hair form the glove, all you need to do is to lift it off into a bin and you're done. The process is really that simple.
Fur Touch Benefits
There are many benefits to be had when you add Fur Touch to your lifestyle. Here are the main advantages involved so that you know what to expect:
Silicone Bristles Catch The Hair
Most pet care brushes are made out of various materials, but according to Fur Touch research, the best types of bristles are those that are made out of silicone.
The silicone is not only gentle on your pet's coat, but the bristles do a good job at catching the hair and lifting it off the coat. Also, the brand notes that the bristles provide your pet with a comfortable massaging sensation so that they remain calm and relaxed during the process.
5 Finger Design
The Fur Touch also has a 5 finger design so that you can have more control over the brushing process. The design allows you to reach those hard to get to places where the fur really needs to be groomed. As you'll find, the Fur Touch outperforms most hair grooming products on the market and ensures that your pet's coat looks great by the end of the job.
Easy To Use
Next, the product is extremely easy to use. All you need to do is to place the glove on your hand and simply run it through your pet's coat.
As you do so, it will trap the stray hairs and groom your pet so that your pet's coat can stay healthy and hair free of loose hair. You'll also love the fact that you don't need to bother with traditional grooming products any longer.
Fast Results
Finally, the product provides you with rapid results. All you need to do is to follow the instructions and the product will keep your home free of lose hair so that you finally can stop wasting time with hair removal products that you just don't need.
As you can tell, there are many benefits to be had when you add the Fur Touch to your lifestyle. The product provides you with all of the qualities necessary for an easier, simple, and hassle-free hair grooming experience.
About The Glove
When buying a product, it is always important to understand the details. In this case, there are a number of prominent qualities to the Fur Touch that make it a simple and easy product to use. Every glove contains silicone bristles that are able to both massage your pet and remove the excess fur that is starting to fall.
The back hand of the glove features a durable material that ensures that your glove lasts you for years to come. Finally, there is an adjustable Velcro strap that makes it easier for you to keep the glove in place during the grooming process. You'll appreciate how well the glove holds up and how easily it works.
Positive Feedback
Ever since its release on the market, the Fur Touch has received stellar results from users. If you visit the brand's website, you can browse through the many testimonials and reviews.
Most users gloat about the wonders of the product, such as its ability to easily and quickly remove the hair from their pet's coat. Many also appreciate how well the glove works on all kinds of animals so that you can use it no matter what type of animal you have.
For those who are dissatisfied with the product for any reason, the good news is that it comes with a 100% money back guarantee. If you have any issues, you can return the glove and get a full refund.
Purchasing Fur Touch
If you are interested in purchasing the Fur Touch, you can do so through the brand's website. The product is currently being offered at a discount, which is buy one for $39.99 and get the second 50% off. If you buy two gloves, you get one free. One glove on its own costs $29.95.
Fur Touch Summary
Ultimately, the Fur Touch is an easy, effective, and reliable way to cleaning and grooming your pet's fur on a regular basis. If you're ready to stop dealing with archaic grooming technology, then the Fur Touch may be just the right solution for your needs. To order, visit the brand's website today.