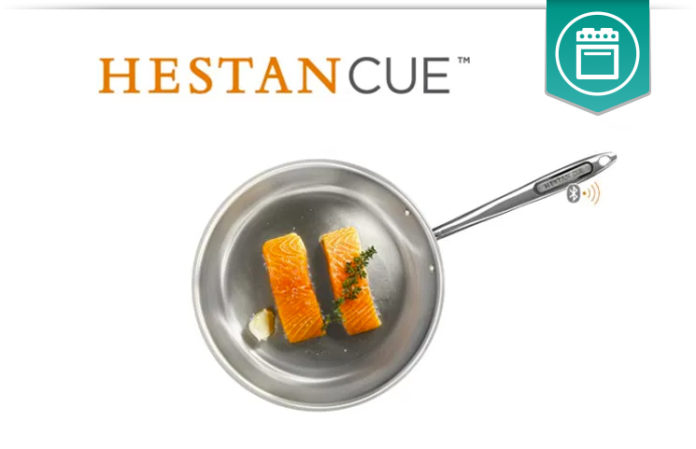 Like no pan you have seen before – and it's no surprise when it's called a smart pan. These pans allow you to cook with much more precision than other pans because of their built-in sensors on the pan, and cooktop. Why does this matter? Well, this gives you complete control of both time and temperature.
Hestan Cue has earned its reputation by not only being a smart pan but also an induction burner combined with a recipe app. Together, they are all able to communicate and in turn work completely in sync with you.
It may challenge you to cook new dishes, try new recipes and learn new skills. Home chefs are sometimes apprehensive cooking for others in fear of overcooking dishes or underwhelming their company – with a smart pan, things are taken to a whole new level. Cooking pan or not, it enables you to become a better chef.
Hestan Cue Smart Pan Techniques
As mentioned above, this smart pan can elevate your cooking skills to new heights, meanwhile allowing you to use several different techniques at the same time. The following is a short list of different cooking styles you can use with its use;
Searing
Sauce making
Sautéing
Frying
Shallow poaching
Pan roasting
How Hestan Cue Smart Pan Works
The technology with the Smart Pan is advanced to say the least. It offers seven (7) different components that make it all possible. Starting with the smart module that the heating instructions from the app are sent to. From there, the 1,600-watt power-efficient burner is counter top friendly and a compact design. Next, the rapid-response induction coils. This is where the precise heating happens. The next component are the touch controls and the durable and each to clean ceramic glass cooktop. Lastly, the try-ply stainless steel cookware where the sensors mentioned earlier are. And, the smart capsule.
The Cue App
To some degree it seems surreal that we are at a place in time that our cooking can be controlled through a smart phone application. The Cue App is available on the Google Play Store and the Apple App Store. The app also includes video guidance to use and operate the Smart Pan while using the Bluetooth technology.
Sort of like your 'kitchen coach'. You see, the app doesn't cook for you – instead it empowers you to become a better cook overall and the right tools never hurt anybody! Included with the app are more than 100 recipes and more are added regularly. The app will also provide you with guided step-by-step videos and detailed instructions to help you through the cooking process.
Hestan Cue Smart Pan Set
Included in the Smart Pan set are;
Hestan Cue 11-inch fry pan and the induction burner that is portable
The Hestan Cue app that allows you to communicate with the burner and pan for preceision cooking
Cooking ruler to measure thickness levels
Keep in mind, that this Smart Pan is only for use with the induction burner. The induction burner however can be used in manual mode without the application in use.
The Hestan Cue Smart Pan can be ordered online for only $499.95. Shipping is free in the continental United States and includes a one-year warranty. In case you do not fall completely in love with this pan, there is also a 101-day risk free trial included with each order.
Included on the website are three guides in PDF format to help you care for your Smart Pan properly, and effectively.
Quick start Guide
Burner Safety and Warning Guide
Pan Safety and Warning Guide
Hestan Cue Smart Pan Conclusion
Overall, isn't it time you took your cooking to the next level? You can now make meals personal and adventurous – and do so with confidence. This combination of cooking tools and technology takes the guesswork out of cooking. You will never need to worry about overcooked pieces of beef or under-cooked chops of pork. With the application and Bluetooth technology you are well on your way to refining your skills, using techniques you only saw on the cooking channel.
And, with the wealth of delicious recipes, you can start creating combinations of foods you may not have thought of otherwise – or at least saw yourself capable of. Whether it be to impress yourself, or that dinner party you can't wait to host the Smart Pan by Hestan Cue is a no brainer.
From everyday meals, to Michelin Star dishes the Smart Pan is the optimal cooking small appliance all kitchens should have! So when you are ready to order, please visit the website for more information.