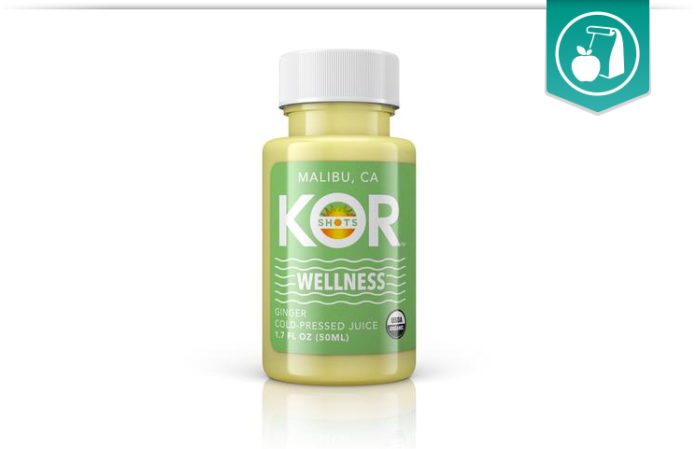 Kor Shots are wellness shots made from cold-pressed juice. Find out everything you need to know about these wellness shots today in our Kor Shots review.
What Is Kor Shots?
Kor Shots are a lineup of wellness beverages made by a Malibu, California-based company. The wellness shots range from the charcoal-infused Black Magic shot to the organic turmeric Vitality shot.
You can buy Kor Shots from Amazon, where they're priced at around $45 to $50 for a 12 pack. Alternatively, they're sold at Whole Foods for about $3 per shot.
Each shot promises to provide "your daily hit of nutrition-packed refreshment direct from Malibu, California." Each shot is made from ingredients locally-sourced and hand-picked from small farms in California or Hawaii.
Company founder Jordan Retamar picks each farm himself after visiting the location. The ingredients are then "cold-pressed in small artisanal batches".
The shots come with a simple slogan: "Shake me. Shoot me. Feel me."
Types Of Kor Shots
There are four different types of Kor Shots. Each Kor Shot comes in a 1.7 fl oz (50mL) bottle. The four varieties include:
Wellness (Ginger)
This shot delivers a strong dose of ginger in a single zingy hit. The flavor of ginger is enhanced with a pinch of cayenne pepper and lemons. Kor claims that ginger can boost digestive health, reduce nausea, and reduce cold and flu symptoms. The formula also contains organic coconut water. All ingredients are raw, cold-pressed, and USDA Certified Organic.
Vitality (Turmeric)
The Vitality formula uses cold-pressed turmeric to provide your body with a strong dose of antioxidants. The founder of Kor Shots claims to work with "one of the only farms producing red turmeric root in the West".
Turmeric is prized for its anti-inflammatory properties. The power of turmeric comes from its active ingredient called curcumin. To round out the formula, Kor has added coconut and lemon.
Black Magic (Charcoal)
Charcoal is prized for its cleansing properties. Many people use charcoal to detoxify their bodies. Some people apply charcoal to their face in the form of a mask, while other people drink charcoal to cleanse their body from the inside out. Black Magic promises to provide a milder taste than the Wellness shot while still being equally refreshing.
The formula contains activated charcoal mixed with coconut water, lemon, and ginger. It's kind of like the Wellness shot, but with less ginger and more activated charcoal.
Youth (Sea Buckthorn & Baobab)
Sea buckthorn and baobab are two trendy ingredients prized for their anti-aging and regenerative properties. Kor claims sea buckthorn contains 12 times more vitamin C than an orange. Sea buckthorn is also the only berry to contain omega 3, 6, 7, and 9 fatty acids. Each youth shot gives you 88% of your daily recommended dose of vitamin C.
Where To Buy Kor Shots
Kor Shots can be found at convenience stores, health food stores, and supermarkets across America. At the moment, Kor Shots are particularly easy to find in California, Florida, New York, and New Jersey. You can view a store finder on their website.
For most people, the best way to order Kor Shots is through Amazon.
Kor Shots Pricing
Kor Shots are typically priced between $3.50 and $4 when purchased from retailers. However, you can also buy them online through Amazon or Kor-Shots.com for the following prices:
Wellness: $42 USD
Vitality: $48
Youth: $48
Black Magic: $44.40
Each package above comes with 12 x 1.7 fl oz (50mL) shots. The shots have a one month shelf life.
Kor Shots Reviews
Kor Shots are well-reviewed on Amazon, where the shots currently have an average rating of 4.4 stars out of 5. Here are some of the pros and cons from real customers:
Pros
"One of the best ginger shots I've ever tried"
Products come very well packed
Perfect amount of formula in each bottle
Available at Whole Foods and other retailers (they're available for $2.99 per shot at Whole Foods, which is cheaper than buying them in a 12 pack from Amazon)
Cons
Expensive ($3.50 to $4 per shot, even when ordered in 12 packs from Amazon)
Some people claim that ginger and turmeric upsets their tummies
About Kor Shots
Kor Shots comes with an interesting backstory: in 2011, company founder Jordan Retamar found himself separated from his girlfriend. She had gone back to the east coast to care for her father. To help, Jordan sent weekly care packages, including soups made from locally sourced vegetables.
However, Jordan struggled to ship homemade soups without stripping them of vital nutrients. He started researching food preservation – and stumbled upon high pressure processing, a cold pasteurization technique that allows food to retain its nutritional value.
Later, Jordan traveled to Kauai to find local sources of turmeric and ginger roots. He came back home, juiced those roots, and was surprised by the instant energy. He incorporated the ingredients into his daily routine – and he hasn't stopped since.
In 2012, Jordan transformed his homemade shots into a brand. The company continues to source its ingredients from farms in Malibu and Hawaii to this day. The ingredients come from small, sustainable farms, and are then cold-pressed in artisanal batches.
You can contact the Kor Shots team using the online contact form on their website.
Kor Shots Summary
Kor Shots are health and wellness shots designed to provide targeted health benefits. The shots are relatively expensive when ordered online ($3.50 to $4 per shot, when ordered in a 12 pack), but they can be found from retailers like Whole Foods for as little as $2.99 per shot in-store.
Each shot provides a modest dose of its active ingredients – including ginger, turmeric, activated charcoal, sea buckthorn, and baobab. Like other shots, you're not going to get huge nutritional value from the shot. There just isn't enough liquid.
However, if you want an extra boost of energy throughout the day, or want to cleanse your body using a small dose of activated charcoal, then Kor Shots may be the right choice for you.