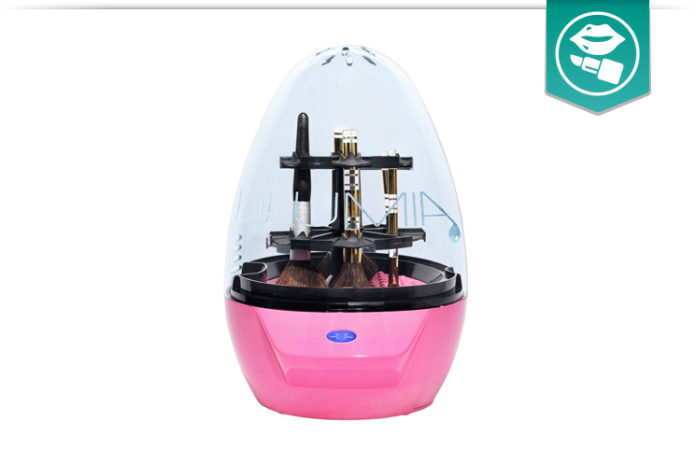 Your skin is one of your most delicate organs; it is extremely prone to damage, it can become infected easily, and issues can arise at any time.
While you may think that you're caring for your skin properly, you may be overlooking one activity that you do that may cause some serious issues – for example, such as applying your makeup.
Current studies show that it isn't the makeup itself that is harmful for your skin, but the tools that you use to do so. If you're like most women, you may not clean your utensils, which often leads to serious damage to your skin.
Now, there is an easier and more reliable way to clean your utensils and therefore, care for your skin. With that, this review would like to introduce you to Lilumia.
What Is Lilumia?
Lilumia is one of the first ever makeup application tool cleaners on the market. The device can clean and sanitize utensils of various sizes, qualities, and types. This way, you can finally ensure that when you apply your makeup, you are doing so in a manner that enables you to protect and maintain a beautiful and fresh skin surface.
With this product, you'll no longer need to worry about massaging bacteria, grime, dirt, and other harmful compounds throughout your skin surface. Instead, all you will be applying to your skin with brushes cared for by Lilumia is your makeup – just like it should be.
Lilumia High-Tech Appliance
The Lilumia is a best-selling high-tech makeup tool cleansing appliance. Dissimilar to many other products on the market, this one is able to clean a large amount of brushes all at once. Each device is able to clean 12 brushes and after the cleansing process, your bushes are left smooth, silky, fresh, clean, and completely dry.
With this product, you'll have more time available to invest in the tasks that really matter to you instead of fretting over the quality of your makeup brushes. As the brand explains, you'll be able to keep your hands clean while the Lilumia does all the work.
Further, it is important to keep in mind that there are two Lilumia devices on the market. The latest version is the Lilumia 2 and it is the product that this reviewer is referring to. The second version has a number of upgraded features that you may not be able to find in the first.
Lilumia Features
There are a number of excellent features that you'll find with the Lilumia 2. Here are the main features of this device so that you know what to expect:
A Powerful Motor
The ability of the device to provide your makeup tools with optimal cleaning qualities depends upon the strength of the motor. The good news is that Lilumia 2 is equipped with an extremely powerful motor so that you can count on the product to give your brushes the good scrub that they need to be complete grime-free.
Additional Rinse Cycle
Sometimes, your makeup brushes need that extra level of cleaning qualities. Fortunately, this product is designed to do just that. The Lilumia 2 features an additional rinse cycle that enables you to thoroughly clean your bushes for optimal results. You'll appreciate how spiffy the brushes are once they are out of the machine.
Enhanced Wash Cycle
Not only does the device provide you with an additional rinse cycle, the product also features an enhanced wash cycle as well. The enhanced wash cycle ensures that the brushes are fully clean once they are out of the machine. Further, you can count on the product to keep your brushes free of substances that you just don't want on your skin.
Improved Based Design
The improved base design is one of the features that you won't find in the first version. The design features an enhanced angled cleaning drain for dirty water. It also prevents the makeup residue from appearing again on the bristles so that they are fully clean.
In addition to the above features, the device also comes with bonus accessories. The bonus accessory is a removable cleaning disk that works especially well for brushes that really need an intense clean.
Easy To Use
Another important quality to recognize about this device is that it is very easy to use. In addition to viewing a video on the brand's site on how the product performs, here is another step-by-step overview:
Pour The Solution
The first step to using the device is to pour the solution into the product. The product comes with a measuring cup and the cleaning disk so that you can verify that you are doing everything correctly.
Prep The Device
Next, you can prep the device by putting all of your utensils in place. The product can carry 12 utensils at once so that you can wash most of your brushes when you need to.
Ready To Go
Finally, the Lilumia 2 will be ready to go once you have everything prepped and poured into the product. There are three wash and three rinse cycles that you can choose from based upon the dirtiness of your brushes.
As you can tell, using the Lilumia 2 is an extremely simple and easy process. The product is one of the surest solutions on the market for saving time, money, and the hassle of cleaning your brushes all on your own.
Purchasing Lilumia
If you are interested in purchasing the Lilumia 2, then you can do so through the brand's website. The product is currently available in four different styles, which include Tokyo, New York, Dubai, and Pairs. The color schemes are based upon cities. For example, the Paris version is pink and vibrant, while Dubai is gold.
Lilumia Summary
Ultimately, if you are ready to stop using dirty, grimy, and icky makeup brushes, then this may be the right product for your needs. To learn more and to order your own Lulumia 2, then just visit the brand's website today.