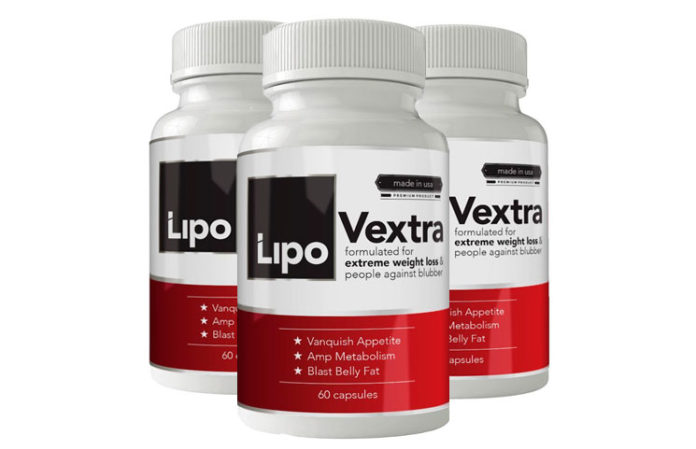 LipoVextra is a weight loss supplement that claims to be "formulated for extreme weight loss". Find out if LipoVextra really works toady in our review.
What is LipoVextra?
LipoVextra is a diet pill that claims to block fat production, boost metabolism, and lead to "extreme weight loss". Of course, we've seen plenty of other diet pills make identical claims over the years – so what makes LipoVextra different?
LipoVextra claims to work in two ways: by melting away your existing belly fat and by preventing the formation of new fat. LipoVextra claims to specifically target belly fat.
Like many other diet pills on the market, LipoVextra uses forskolin, a type of plant root extract, as its active ingredient.
Already, we're seeing some major red flags from LipoVextra. Let's take a closer look at what's inside LipoVextra.
How Does LipoVextra Work?
LipoVextra claims to use an ingredient that works in three stages:
Stage 1) Generates thermogenesis effect (makes you sweat)
Stage 2) Stimulates cAMP enzyme that burns fat
Stage 3) Dissolves fat cells
How exactly does LipoVextra achieve these effects? Forskolin is the only listed active ingredient. LipoVextra claims that forskolin has been scientifically proven to release fat from adipose tissue, allowing the fat to be burned away through exercise. The makers of LipoVextra cite a study in 2005 by the University of Kansas (we'll talk about that below).
LipoVextra contains 250mg of forskolin in each 2 capsule serving (30 servings per container).
Does Forskolin Really Melt Away Fat?
Forskolin has shown some promise as a weight loss aid. Forsoklin comes from the roots of the Coleus forskohlii plant, which is a tropical plant similar to mint. The plant was used for centuries in ancient Indian (Ayurvedic) medicine. Today, it's a popular ingredient in many diet pills. Dr. Oz featured forskolin on The Dr. Oz Show in January 2014, and forskolin has remained popular ever since.
Unfortunately for Dr. Oz, scientific evidence linking forskolin with weight loss is sparse. There have been a number of studies investigating forskolin and fat metabolism, but most of those studies were performed on animals or human cells in a test tube, so the results may not be applicable to humans.
That being said, two small studies have investigated the effects of forskolin on weight loss in humans. In one study, 15 overweight men were given 250mg of forskolin extract (10% forskolin) twice a day for 12 weeks, and 15 overweight men were given a placebo.
The forskolin group lost significantly more fat, although they did not lower their total body weight. Men also exhibited an increase in testosterone.
In a similar study, 23 overweight women were told to take 250mg of forskolin extract (10% forskolin) twice a day (500mg total dose per day) for 12 weeks. Forskolin did not lead to fat loss or weight loss in this study. However, researchers theorized that forskolin could help you avoid gaining weight.
Ultimately, there isn't enough evidence to prove that forskolin leads to weight loss. However, it has shown some early promise as a weight loss aid.
The problem with LipoVextra is that it doesn't just claim to break down fat; it also claims to stimulate thermogenesis. There's no evidence forskolin can do that. Typically, diet pills use caffeine as a thermogenesis agent.
LipoVextra Ingredients
The makers of LipoVextra aren't very upfront about their ingredients. The ingredients list is difficult to find on the website. fortunately, the side of the LipoVextra bottle tells you about the ingredients:
-250mg of Coleus Forskohlii Extract (20% Forskolin)
-Other Ingredients: Magnesium Stearate and Gelatin
This is literally just forskolin packed into a gelatin capsule. It's a forskolin supplement with nothing else added.
The tests linked above used a dose of 500mg of forskolin extract containing 10% forskolin. LipoVextra appears to use a smaller dosage, but the concentration (20% forskolin extract) is higher, so it works out to the same amount of active ingredient.
Note: LipoVextra doesn't list its dosage anywhere on the official website, and there's some controversy over the true dosage of forskolin in the supplement. The only source we have is the ingredients label picture on Amazon. As mentioned above, LipoVextra claims to stimulate thermogenesis, despite the fact that it doesn't list any thermogenesis-linked ingredients on its capsule. This could mean there are additional ingredients inside, but we can't be sure.
LipoVextra Pricing
LipoVextra is available online through LipoVextra.com, where it's priced at the following rates:
1 Bottle: $49.97 + $7.99 Shipping
3 Bottles: $99.97 + Free Shipping
6 Bottles: $157.63
12 Bottles: $199.97
If paying $50 for a bottle of single-ingredient diet pills seems expensive (it is), the manufacturer claims that they typically sell bottles for $70. Out of the kindness of their hearts, they're selling LipoVextra for as little as $16.68 per bottle (when ordering 12 at a time)
The LipoVextra official website ordering form has some major problems. you're asked to enter your payment information (including credit card data and personal contact information) into an unsecured online form (there's no HTTPS). You're also asked to confirm your payment on a page where there's no final amount listed – so you don't know if shipping, taxes, and other fees have been bundled onto your order.
LipoVextra recommends taking two capsules per day. When following this usage, each bottle will last 30 days. However, some people take up to 6 capsules per day, in which case each bottle will last 10 days.
LipoVextra is also available on Amazon (through the manufacturer's official account), where a three pack (90 capsules) is priced at $129.99.
Who Makes LipoVextra?
LipoVextra is made by a company named Enutra, Inc. That company is based at the following Arizona address:
2451 W Birchwood Ave
Ste 113
Mesa, AZ 85260
You can contact the company by email at service@enutra.com or by phone at (801) 494-0660 (you can also order the supplement by phone using this number).
Should You Buy LipoVextra?
LipoVextra is a forskolin supplement that contains 125mg of forskolin in each capsule (60 capsules in each bottle). When you buy one bottle at a time, you're paying around $60 per bottle.
There are no other listed ingredients in LipoVextra. It's just forskolin. Forsskolin is backed by very little scientific evidence showing it can lead to weight loss. In fact, no human study to date has linked forskolin to weight loss (one study did, however, show it can lead to fat loss in obese men, but not overall weight loss).
There are also problems with how LipoVextra markets itself online. The manufacturer asks you to enter your credit card information into an unsecured online form. They refuse to disclose the ingredients through the official website, and the final payment amount is never actually disclosed to you before submitting your payment information.
Ultimately, there's little evidence that LipoVextra works as advertised to give you "extreme weight loss". If you do believe in the power of forskolin, then you can find supplements with larger doses for under $20 on Amazon (the Natures Design forskolin supplement has 60 x 250mg capsules of forskolin extract (20% forskolin) priced at $15.55 USD, for example, and it's the first result that pops up on Amazon).
Based on all of this information, it's hard to recommend LipoVextra as an "extreme weight loss" tool.