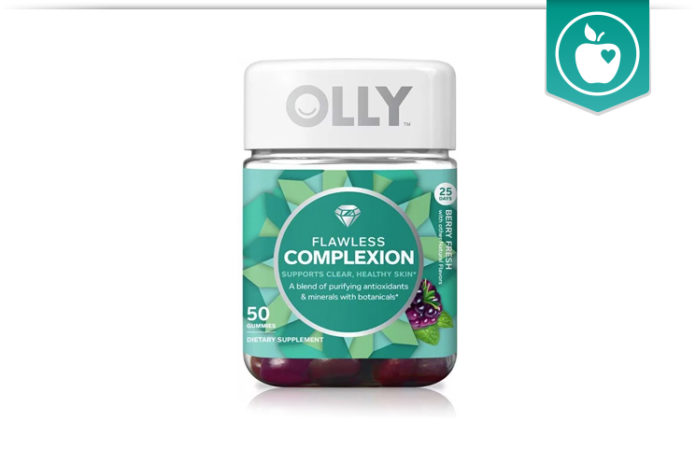 Between stress, junk food, and pollution, our skin has taken on a role that it wasn't prepared for until now. Packed with antioxidants, minerals, and nutrients essential for healthy skin; this combination will support a clear complexion from the inside out.
Olly Flawless Complexion chewy vitamins are a tasty and easy way to get the help that you need to keep your best face forward.
What Is Olly Flawless Complexion?
Olly Flawless Complexion has made it easy for you to get your daily dose of vitamins, minerals, and antioxidants with it's all natural chewable source.
With all natural colors and flavors, Olly Flawless Complexion is naturally sweetened with fruit juice, making the berry fresh taste enjoyable.
Using the power of plant sourced phytonutrients and antioxidants, Olly Flawless Complexion gives you everything you need from a natural source.
At Olly, they are passionate about the health of their customers. Their team of experts had been studying for decades to ensure their products were not just following trends and hype, but to ensure their products were the most nutrient dense and all natural.
To date, they have observed years of scientific proof that certain nutrients, foods, and herbs can help consumers become stronger and healthier.
The goal was to provide a foundation for consumers, with all natural ingredients, so they could have beautiful radiant skin and feel good about their health at the same time.
Whether you are a health enthusiast, or just looking for a natural way to improve your complexion, the creators at Olly have remained committed to ensuring their supplements and products are the best quality you can buy.
Olly Flawless Complexion Ingredients
Antioxidants in the form of vitamin A and vitamin E are included as they are both known to fight free radicals and support a brighter, more clear completion.
Minerals in the form of Zinc, which supports cell regeneration, and Selenium which detoxes the cells are both included to support a flawless complexion.
Botanicals in the form of phytonutrients, namely spearmint and aronia berry are used in combination with dandelion root to support the detoxification of the skin from the inside.
Olly Flawless Complexion Dosage
Chew two (2) gummies per day. They do not need to be taken with fluids.
With the intention of helping consumers feel and look their best, Olly products have been formulated with all natural ingredients to remain in tune with their mission.
Olly Flawless Complexion has been giving consumers the results they love, while consistently remaining free of fillers and dyes.
Armed with the knowledge and research of how nutrition impacts the functioning of our bodies, the production team at Olly has worked tirelessly to provide consumers with supplements that will provide them with the healthiest results they can have.
Olly Flawless Complexion Benefits
Olly Flawless Complexion has provided consumers with a great tasting, and ethical choice when it comes to their complexion and their health.
Reducing exposure to pollutants, eating better, and meditating all sound like great ways to improve our complexions without the use of supplements, but honestly speaking, this may not be doable for everyone.
The availability and convenience of supplements in this very fast paced world is the future of our nutritional needs being met so we can look and feel our very best.
Olly Flawless Complexion combines nutritional support with cosmetic enhancement by nourishing the skin and the body's ability to maintain a healthy complexion.
The state of the art research, along with simple, natural ingredients work together to provide a foundation for you to work with and maintain your overall health.
Purchasing Olly Flawless Complexion
Olly Flawless Complexion can be purchased online for $13.99 for 50 gummies.
Olly Flawless Complexion Summary
Olly Flawless Complexion has taken the extra work out of caring for our skin from the inside out, and the convenience of this alone is a stress reducer.
Eating well, exercising, and living stress free should be something every person keeps in the forefront of their life, however we all need a little help sometimes.
Not only does Olly support a natural, healthier lifestyle; the website offers additional supplements and tips and tricks on lifestyle improvements. Through blog posts, and healthy recipes, the Olly community can help lead you to improved overall well-being.
If you are ready to take your health, and the health of your complexion to the next level, you can purchase your first 25 days' supply on line.