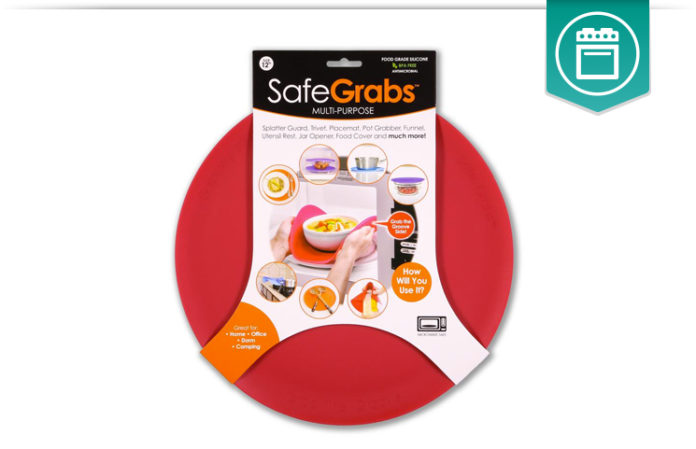 If you aren't careful while you cook, you can burn your hands on pots and pans or damage countertops and tables from the heat. It is important to have a layer of protection between you and the hot pans to prevent burns and splatters. Some oven mitts can be cumbersome and slip, which can also cause injury or burns.
Today we will be discussing a product called Safe Grabs. We will be reviewing this product and helping you determine if it is the right product for you.
What Are Safe Grabs?
The Safe Grabs are silicone disks that allow you to grab and safely transport hot food items. They work for microwaved items and oven cooked dishes, and are a convenient way to prevent burning your hands on hot dishes. Because they are made of silicone, they can protect from extreme hot temperatures and are non-slip so you can keep a good grip
How Do Safe Grabs Work?
The Safe Grabs are made of silicone, and have many different uses. They can be used to pick up hot food from the microwave or oven, serve as a splatter guard while using the microwave, be a hot pad for under a pot on the table, and more. They are easy to clean and come in a variety of colors
The secret to the success of the Safe Grabs is the raised ridges that dissipate the heat away from your skin. They leave the silicone constantly cool to the touch and ensure that you do not burn yourself while handling hot dishes
Other benefits of the Safe Grabs include:
You can store them in your microwave for easy access to grab a hot dish after warming
They stay cool to the touch, even after coming out of the microwave
They can be used to remove hot pans and dishes out of the oven, and can hold in the heat until you are ready to eat the dish
Can be used to remove jar lids
They help you get a good grip on whatever it is you are pulling out of the oven or microwave so you do not slip or drop the dish and cause accidental burns
They are made with food grade silicone and are BPA free
Are very handy for travelling and transporting hot dishes, and are easy to clean
Can go over hot bowls and pans to keep food warm
Available in 3 beautiful colors to choose from: red, yellow, and blue
They have a 90 day, money back guarantee!
How Safe Grabs Benefit Me
The Safe Grabs will help you by providing a multi use, heat protecting tool for the kitchen. It can help prevent burns to your skin and damages to your table, and is lightweight and easy to clean. It comes in three beautiful colors and is a great product for anyone who cooks or uses the microwave
Safe Grabs Pricing
The Safe Grabs are available in packs of 4 for $19.99 plus shipping and handling. In each order you will receive 2 large and 2 small Safe Grabs in your choice of 3 colors
Should You Buy Safe Grabs?
If you are looking for a multi use tool that can help manage the blistering heat from pots and pans, want a lightweight pad to keep in your microwave to handle food coming out, or just want to try something new the Safe Grabs may be the right product for you to try.
For more information on this product and how it can benefit you, visit their website for details.