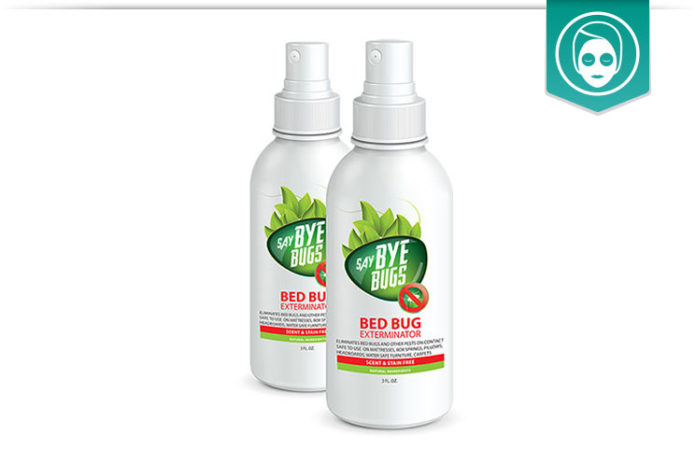 SayByeBugs is a spray that eliminates bedbugs from your furniture and your home. This treatment offers a discount for the first shipment of the formula, enrolling you in a monthly subscription after.
What is SayByeBugs?
One in every ten Americans have had to deal with bed bugs at one time or another. Bed bugs are parasites, and they will stay firmly planted where they are once they show up. They easily spread through physical contact, clinging onto clothing and sheets to spread from place to place. However, while you may think they are just a nuisance at first, but they do a lot of damage. They are usually first apparent when you notice red bites on your body, but they also are attracted to biting animals. The second you think that there are bed bugs in your home, you need to act quickly. However, before contacting the local exterminator, you may be able to control the situation on your own with SayByeBugs.
SayByeBugs helps you eliminate bed bugs at the source, killing them on contact. This treatment is safe for the people in your household to be around, which means that you can treat these pests at any time. It is produced within the United States, and it won't impact the health of your family or your pets. It's also been used by janitorial staff members with hospitality and healthcare facilities. Unlike other bug repellants, this formula uses no odor, which means that you won't have to worry about clogging your sinuses with its fragrance.
Most people turn to the help of a pest control service to help eliminate bed bugs in the home. However, if you choose this route, you could waste tons of money that could be used towards better things for you and your family. Each treatment to your home requires you to leave, which means you must be pushed more out of your comfort zone just to eliminate the problem. With SayByeBugs, you don't need to feel put out by these invaders. This formula allows you to take control of the situation.
How Say Bye Bugs Works
The great part about SayByeBugs is that you don't need to worry about the safety of your family, since this product is made with natural ingredients to make it effective. While the specific substance is not named, the company states that it is an enzyme that is toxic to the wellbeing of bed bugs. To ensure that you get what you pay for, the formula was tested thoroughly by
The active ingredients in SayByeBugs includes:
3% Sodium Lauryl Sulfate, which is found usually in hygiene products to blend formulas with the surfaces they are applied to
1% Sodium Chloride, also known as table salt
0.2% Citric Acid, which has been shown to control many types of bugs
The formula also includes several inactive ingredients to support the texture or the effectiveness of the main ingredients.
Due to the potent but safe ingredients, you can eliminate bed bugs at any life stage. That means that you can kill the adult-size bed bugs, or you can neutralize their matting process and the eggs that are left behind. To make the formula even more appealing, it uses a water base, which means that you won't need to worry about oil stains being left behind on your belongings.
Using SayByeBugs
This treatment doesn't require you to limit the amount of spray you use. You only need to spray Say Bye Bugs on the bugs directly to kill the parasites for good. However, this treatment is not like using an ant trap or similar products that carry the formula back to a nest. Bed bugs reproduce at a rapid rate, and the only way to kill them all is to kill each one individually.
Since this product is so safe, you can spray down bedroom furniture and clothing from each family member, without worrying about putting their health at risk. You can spray it directly on your mattress, bedding, and other fabrics in your home.
While this formula kills bed bugs on contact, it cannot be used as a preventative measure on unaffected furniture.
Pricing for SayByeBugs
You don't have to spend hundreds of dollars to eliminate bed bugs, and you don't even need to move. While most companies just require you to make a one-time purchase, you could have consistent treatments by participating in the membership of this company.
To start treating your home, you can get this spray-on treatment for $28.95 initially. This payment is 50% off the regular purchase price, since you are enrolling in an AutoShip program. The supply you receive is enough to last for two months, but your subscription will begin after 30 days.
Once your subscription starts, you will be billed $57.95, plus $7.50 for shipping and handling with each package. This subscription will continue for as long as you want it to go on. You can cancel at any time by calling the customer service team.
The Guarantee
With such an impactful situation, you probably want to security of knowing that the treatment will work for you. The creators of this formula are so confident in the efficacy of Say Bye Bugs that they offer a 15-day money back guarantee. You can return the formula for any reason, but the main purpose of initiating a refund would be if SayByeBugs doesn't eliminate your bed bug issue.
Contacting the Creators of SayByeBugs
With all the information on the website for Say Bye Bugs, you may already be prepared to make your purchase. However, some consumers require additional information before you trust this spray to eliminate such an uncontrolled problem, which is why the customer service team is available. You can reach someone via phone or support ticket.
To call the company, you can use 1-877-466-3260 to get ahold of a representative. The company is available on weekdays only from 9:00am to 5:00pm CST. However, if your question is not urgent, you can go to the "Contact Us" page and click the Help Desk link to open an inquiry via support ticket.
SayByeBugs Conclusion
SayByeBugs is a new and inventive way to get rid of bed bugs as soon as they show up. These insects feed off human and animal blood, continuing to puncture your skin as they develop and grow. Their reproductive process is fast, which means that a few bugs can easily turn into an infestation. You need to treat the issue at the source with SayByeBugs.
If your infestation has become out of control and you have a difficult time finding all the bugs, you may still need to call pest control services.