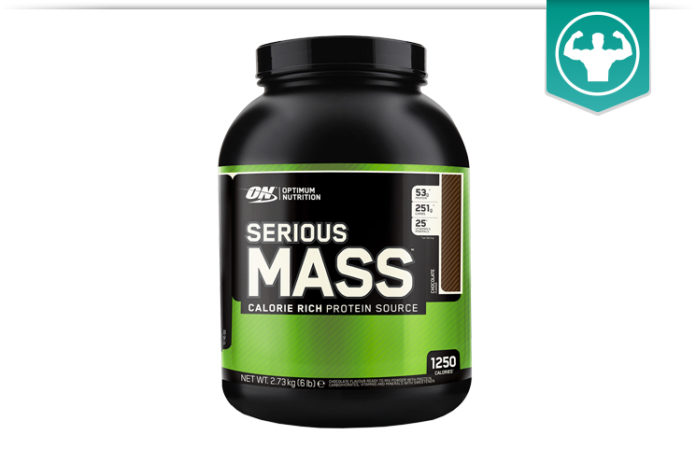 Weight gain formulas have become a popular option for anyone who would like to quickly increase their strength and size in a short amount of time.
When taken on a regular basis and in conjunction to a health and exercise program, supplements such as Serious Mass claim to deliver results in just three to four weeks, provided that one follows the instructions printed on the product's label.
Serious Mass is known as a 'high-calorie weight gainer', and is reportedly the ultimate in weight gain formulas.
Each serving of Serious Mass contains 1,250 calories, as well as 50 grams of protein for enhanced muscle recovery and support. It is claimed that its instantized powder makes the product an ideal post-workout shake that can make one's fitness journey significantly easier.
Serious Mass is produced by Optimum Nutrition, which is a company located in the United States. Once the business has received the user's order, one will apparently get their goods within three to five working days for residents in the US.
Serious Mass Benefits
More than 250 grams of carbohydrates with no added sugar
Contains creatine, glutamine, and glutamic acid
More than 25 vitamins and essential minerals
50 grams of high quality protein
Contains 1,250 calories
The muscle-enhancing formula from Serious Mass comes in a variety of flavors, including: Banana, Chocolate, Chocolate Peanut Butter, Strawberry, and Vanilla. The price of each flavor is the same, and the core ingredients are consistent across the different labels.
At the time of writing this article, Serious Mass does not come with a satisfaction guarantee, nor can one get the product via the means of a free trial.
Serious Mass Ingredients
Serious mass leverages a unique blend of ingredients sourced from natural and man made sources. The ingredients are claimed to be high quality, with each being refined in a GMP-certified facility to ensure the user's satisfaction.
The full list of ingredients for Serious Mass can be seen below:
Vitamin A
Vitamin C
Vitamin D
Vitamin E
Thiamin
Riboflavin
Niacin
Vitamin B6
Folic Acid
Vitamin B12
Biotin
Pantothenic Acid
Calcium
Iron
Phosphorus
Iodine
Magnesium
Zinc
Selenium
Copper
Maganese
Chromium
Molybdenum
Sodium
Potassium
As one can see from the above ingredients, Serious Mass contains a huge variety of different ingredients that work synergistically to enhance the user's workout.
How To Prepare Serious Mass
To prepare Serious Mass, one is directed to add two scoops of the formula in a blender along with 24 ounces of water. Blend the mixture for 45-60 seconds, then add other calorie-contributing additives and blend the contents again.
For best results, it is recommended to prepare Serious Mass with 24 ounces of nonfat milk instead of water, as this will lead to a higher intake of calories per servings. Additionally, users who are using the formula for the first time should gradually increase their servings from half a glass to one or more full servings per day.
Additionally, the timing of when the user consumes Serious Mass can reportedly have a big difference in the user's results:
Between Meals: When one consumes one serving of the supplement between the major meals of the day, this can assist in the nitrogen balance of the user's body, as well as working to support a high-calorie diet.
Post-Workout: One serving of Serious Mass after a workout is claimed to aid in the growth and recovery of strong muscles.
Before Bed: Rest is an important factor to muscle growth. By having a Serious Mass shake before the user goes to sleep at night, one can ensure they are getting all the vital proteins and antioxidants they need for more explosive gains.
Serious Mass Summary
Serious Mass is a comprehensive weight gain formula that reportedly contains everything someone could want in an easy to consume shake.
The product can be purchased via the company's website as well as other sales channels either online or in retail stores.