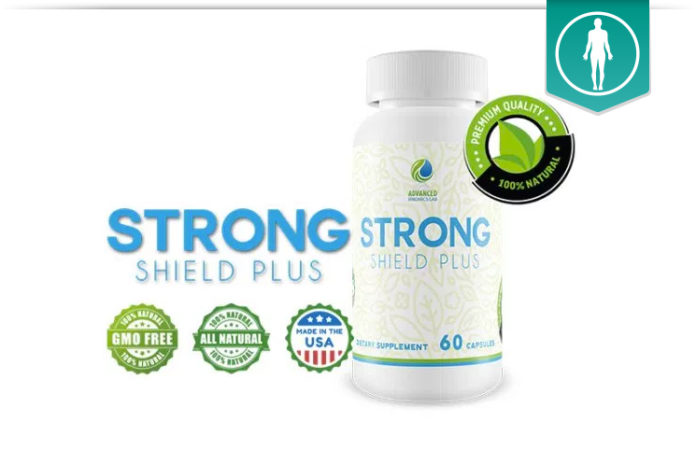 Strong Shield PLUS is a dietary supplement that, supposedly, can prevent and reverse the effects of fungus infections. Here's our Strong Shield PLUS review.
What Is Strong Shield PLUS?
Strong Shield PLUS contains a specialized formula of vitamins, minerals, and herbal remedies that are purportedly excellent at reversing the effects of a fungus infection – toenail fungus and others -while also working to prevent fungus from forming in the first place.
Strong Shield PLUS supposedly targets not just a fungus infection on the skin but the "poisonous internal fungus colony" living below it, deep within the body.
Fungal infections take root through airborne spores that are inhaled, according to Strong Shield PLUS, and the prevalence of air conditioning units helps spread airborne fungus.
Strong Shield PLUS, however, is specially formulated to prevent fungus infections from taking root, according to its marketing copy.
Who Makes Strong Shield PLUS?
The creator of Strong Shield PLUS claims to be an individual named Jao Sanders. However, this is a pseudonym, as no Jao Sanders exists outside of this website.
The true creator of Strong Shield PLUS – or at least the company promoting it – is known as Software Projects Inc, a company that claims to be headquartered in New York City but is actually registered on the island nation of Malta, located in the Mediterranean.
Software Projects was found in 2003 and has been in constant operation since then, selling varied products and services over the internet. The owner information for Software Projects is completely unavailable.
However, while it's impossible to know who's behind Software Projects, the company has left a wide swathe of unsatisfied customers in its wake.
The company's Better Business Bureau profile is less than stellar, with 6 negative customer reviews and a whopping 20 customer complaints.
The company itself has a 1 out of 5 star rating, based in part on these reviews and complaints. Software Projects also has an "F" rating from the BBB for not responding to complaints and not being transparent enough about company ownership.
Strong Shield PLUS Ingredients
The ingredients in Strong Shield PLUS are similar to many herbal and multivitamin products.
It contains strong doses of Vitamin C and Vitamin E, Selenium, Graviola powder, red raspberry juice extract, green tea extract, beta-glucan, curcumin powder, Cat's Claw powder, lycopene, quercetin, pine bark extract, pomegranate extract, essaic tea complex, grape seed extract, a mushroom complex sourced from shiitake, reishi, and maitake mushrooms, ARA-6, and olive leaf extract.
The majority of these ingredients are thought to have some use when it comes to herbal and folk medicine.
However, few of these ingredients have been scientifically proven to be truly effective in treating any sort of physical illnesses, much less specifically targeted to manage and prevent fungus infections.
Strong Shield PLUS Pricing
Strong Shield PLUS comes in a 30-capsule bottle. Each dose of Strong Shield PLUS is 2 capsules daily, taken with water.
Strong Shield PLUS costs $69 per bottle. However, buying 3 bottles at a time drops the price to just $59 a bottle for a total of $177, while buying six bottles at a time drops the price even further to $49 a bottle for a total of $294.
Shipping is free. Software Projects claims to provide an ironclad 60-day money back guarantee for anyone dissatisfied with its products, including Strong Shield PLUS.
Strong Shield PLUS Reviews
Customers are not happy with Strong Shield PLUS.
Many of the complaints and comments left on Software Projects' BBB profile are rather damning, claiming that the company is selling worthless pills that do nothing and are not honoring return and refund requests.
Pros:
None – There has not been a single positive note left by anyone who has had dealings with Software Projects, either through Strong Shield PLUS or through any of the other products and services it offers.
Cons:
Useless Product – It's nearly unanimous: the product in question does nothing to help fight off fungal infections.
Strong Shield PLUS may have some health benefits thanks to a few of its ingredients, but there's no proof that it's going to prevent a fungal infection – and certainly none that it will treat or cure one.
Wildly Overpriced – The price point for Strong Shield PLUS is set at is incredibly high, especially considering the ingredients within each capsule.
There are many other supplement companies that market and sell products with similar ingredients that don't cost nearly as much as Strong Shield PLUS.
Impossible to Get a Refund – Anyone who has tried to make good on the company's guaranteed 60-day refund policy has had a terrible time actually claiming their refund.
Customer service is slow to respond – if it does respond at all – and is less than helpful, making it often impossible to get your money back for a product you are obviously not satisfied with.
Misleading Advertising – The advertising copy used to promote Strong Shield PLUS seems to be purposely misleading, relying on out-of-context quotes from medical research papers to reinforce the idea that "airborne fungus spores" are everywhere, that you're breathing them in constantly, and they're dangerous enough to infect you with fatal "internal poison fungus colonies" that could be fatal.
There's no solid scientific basis for any of these claims.
Strong Shield PLUS Summary
Strong Shield PLUS represents one of the most classic and well-used snake oil scams out there – create a scary, nonexistent , and completely fabricated medical problem, and then in the same breath introduce a miracle cure for this problem, coming to the rescue of a now-terrified populace, frightened of something that doesn't exist and never has.
The end result is a very well-orchestrated con where people line up five deep to buy this miracle cure.
In this case, the mysterious and scary disease is fungal infection, made scarier by out-of-context research quotes about how airborne fungus spores are hiding in every heater duct and air conditioning unit, being blasted at us day and night and in all types of weather.
These spores, according to the ridiculous claims of Strong Shield PLUS, can become ensconced in your body, creating all sorts of incurable health problems – up to and including death.
The only way to prevent suffering an untimely demise is to take these specially formulated capsules, made specifically by this company to prevent deadly fungal infections.
Miraculously, people who do take these pills don't seem to get any of these infections – simply because they weren't a thing to begin with. So people keep paying anywhere from $50 to $70 a bottle for a cure they don't need to a disease they don't have.
While the ingredients probably won't do any damage to your body, you're not going to get any protection from mysteriously dangerous airborne fungus spores that are lying in wait to infect you and destroy your body from the inside out.
Such things simply don't exist except in extremely rare instances – and taking a dodgy multivitamin from an even more dodgy company isn't going to protect you in such a situation. You might get better results from going to a faith healer.