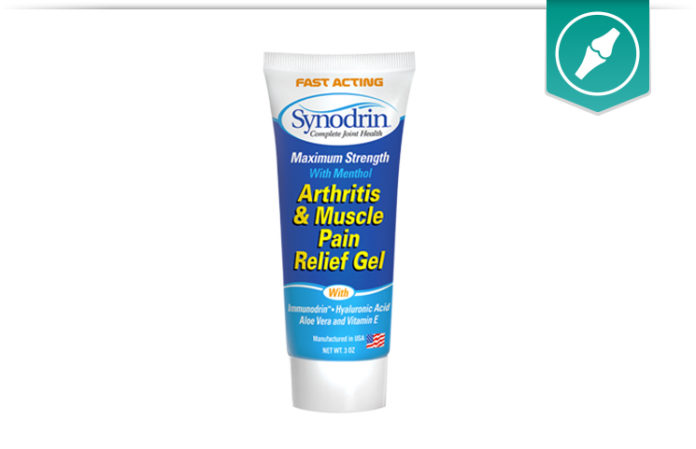 There is no one specific reason as to why joint pain may occur. It can be due to the inflammation experienced by the joint's synovial fluids, poor cartilage health, infections or injuries that could have potentially altered ligaments. Regardless of what the causes may be, one thing is certain: it is unbearable. Joints are the main reason for optimal movement by the hips, knees, neck, shoulders and fingers to name the least, as it allows two parts of the skeleton to interact smoothly.
By using Synodrin as a mean to achieve joint relief, consumers may experience reduced inflammation and eased arthritis and muscle soreness. Each essential claims to be fast acting and absorbing. To better assess how Synodrin can enhance one's joint health, the following will analyze it with respect to its reason for being, what it offers, its key ingredients and much more.
What Is Synodrin?
Synodrin specializes in offering natural joint supplements for those experiencing arthritic joint pain and inflammation. By incorporating the Immunodrin, a proprietary blend consisting of cetylated fatty acids, Synodrin's objective is to promote a healthy response to inflammation, while ensuring optimal lubrication of joints.
Based on its properties and the claims provided by Synodrin and Immunodrin respectively, using each supplement as directed can bring results within 2 weeks to a maximum of 4, some of which may include reduced stiffness, swelling and inflammation.
What Does Synodrin Currently Offer?
Currently, Synodrin carries 5 different supplements that can come in handy depending on the severity of joint pain. The following will take a closer look at each supplement in terms of its purpose, its ingredients and its uses:
Joint Pain Relief Topical
Joint Pain Relief Topical, as the name implies may be preferred by those who prefer creams over capsules. It contains Immunodrin, Hyaluronic Acid, Vitamin E and Aloe Vera. Other ingredients may include Carbomer 940, Glycerin, Isopropyl Palmitate, L-Arginine, Phenoxyethanol, Water, Triethanolamine and Vitamin E Acetate. Its ultimate goal is to promote healthy joints and mobility, provide cartilage and synovial fluid support, and increase normal range of motion and joint comfort. For optimal results, it must be used 3 to 4 times per day on affected regions.
Advanced Complete Joint Health
The Advanced Complete Joint Health is designed specifically to include ingredients like UC-II, Turmeric, Boswellia, Hyaluronic Acid and Black Pepper. This combination is said to treat joint pain from the inside out, while ensuring that nutrients are delivered efficiently and joints are lubricated for maximum comfort.
Ultimately, it claims to improve joint discomfort, mobility, and flexibility. It is an advanced formula in the sense that consumers are only required to take one capsule daily as opposed to taking 2 to 3. Besides treating joint pain, it is a great supplement for training purposes because it can support faster recovery.
Triple Action Complete Joint Health
The differences between the Advanced Complete Joint Health and that of the Triple Action is its high concentrations of ingredients and the inclusion of Glucosamine. Each serving claims to contain:
1200mg Immunodrin
500mg Glucosamine (vegetable sourced)
400mg Turmeric
100mg Boswellia
30mg Hyaluronic Acid
5mg Black Pepper Extract
When it comes to its intake, 3 pills should suffice, as it provides a total of 2235mg of daily dose. Results may be transparent in as little as 7 days, but it can also vary on an individualistic basis.
Turmeric MAX With Black Pepper Extract
Turmeric MAX with Black Pepper Extract claims to achieve long term joint health from the inside out as well. Its active ingredients include Turmeric and Black Pepper Extract. Turmeric contains essential antioxidants that support flexibility, whereas the use of black pepper extract is merely present for the formula's bioavailability of nutrients and absorption. The recommended usage to 2 capsules daily.
Lidocaine Max + Gel
The Lidocaine Max + Gel is a topical solution that claims to support joint health and functioning. It is suggested to apply to affected areas 3 to 4 times per day. For training purposes, it is ideal to apply it 30 minutes prior to training and afterwards for maximum results.
Its formula contains a fair concentration of active ingredients including Immunodrin and Lidocaine. Lidocaine is an anesthetic, which has been used to ease the effects of arthritis and other muscular pain. In addition, it contains Hyaluronic Acid and aloe vera, which are known for their lubricating properties. Other inactive ingredients may also include: Carbomer 940, Glycerin, PEG 100 Distearate, Glyceryl Stearate, Isopropyl Palmitate, L-Arginine, Phenoxyethanol, Triethanoolamide, Vitamin E Acetate and Water
What Can Be Said About Its Key ingredients?
The two standard ingredients that are used in most joint supplements are either Glucosamine and Chondroitin. Although, the duo can induce ease in times of pain, it is believed that it is not up to par when considering the time it takes to bring relief and its bioavailability. Synodrin's use of Immunodrin is said to contain cetylated fatty acids. Cetylated fatty acids are naturally occurring fats that may prevent different types of arthritis.
In addition, its uses can help lubricate joins and muscles, which may contribute towards increased flexibility. Furthermore, adding UC-II, a patented component that is comprised of type 2 collagen, may be useful to reduce inflammation and treat pains associated with osteoarthritis and rheumatism. Similarly, the use of Turmeric, Black Pepper Extract and Boswellia can reduce inflammation and stiffness, increase nutrients absorption and reduce joint and arthritis pain respectively.
How Much Does Synodrin Cost?
The following is a breakdown of prices and quantity per supplement:
Joint Pain Relief Topical: $14.95 for 3 ounces
Advanced Complete Joint Health: $49.95 for 30 day supply
Triple Action Complete Joint Health: $39.95 for 30 day supply
Lidocaine Max+Gel: $17.95 for 3.4 ounces
Turmeric MAX with Black Pepper Extract: $29.95 for 30 day supply
Synodrin Summary
The prices are fairly set given that an average joint supplement can range between $17.99 and over $50 depending on its formula and intakes. Although its supplements are proclaimed as results driven, especially in a matter of weeks, the end result can differ from person to person.
Overall, it is clear that Synodrin has taken a slightly different direction to achieve maximum joint relief. Instead of using traditional ingredients, Synodrin made use of a mix of naturally occurring, and Ayurvedic ingredients that can potentially reach joint relief sooner. Prior to any supplements purchase, it is best to consult a health professional to better assess one's health conditions and the potential effects Synodrin can have.