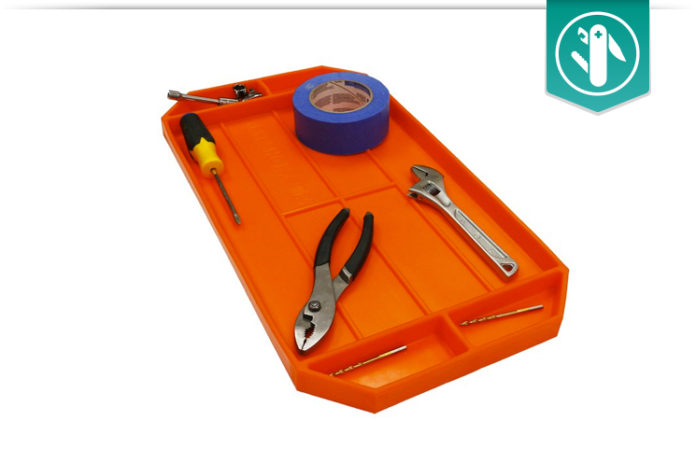 The Grypmat is a helpful accessory that offers an impressive hold on anything you lay on its surface. Right now, you can purchase it before it's released to the public through Kickstarter or Indiegogo.
What Is Grypmat?
When you're working on your car or in a shop, you want to make sure your tools stay close by for you to grab what you need at a moment's notice.
You may use a towel or a slip-grip mat, but even the highest quality product can't hold on enough to avoid watching one of your tools roll underneath a table or away from your work area. However, the Grypmat can end all your issues.
The Grypmat is a relatively new product, and it's a must-have for professionals of trade jobs, like mechanics and consumers that like DIY projects.
This product can be used for plenty of different purposes, and you can put your tools at any angle or position without losing any of them. Unlike similar mats, you don't have to worry about static cling or magnetic attraction.
Grypmat Benefits
The most obvious benefit of the Grypmat is the impressive grip that it has. The unique composition of the material can attach itself to any surface with no movement or falling.
This is especially helpful when you need your tools available wherever you are, even if you're working underneath your car.
By using this mat, you don't have to worry about damaging the surface that you normally put things on. Instead of leaving a rag down on a table or even near or on your car, this thick texture will ensure that you won't damage anything else.
The material is flexible, but it still maintains the hold that you have on whatever is already on the surface. Plus, by holding onto your tools, you don't have to worry about them rolling away like you usually may.
To make it easier for you to use in your shop, the larger sizes offer a built-in ruler.
What Makes Grypmat Effective?
The creators of this product don't show exactly how this product is made (for obvious reasons), but the texture is made of a specialized polymer-silicone blend. The construction and design offers a sticky surface that feels smooth.
However, the demonstration videos let you see firsthand how well the mat can grip to a vertical wall without any type of adhesive or other methods of attachment.
Grypmat Uses
To ensure that you have the coverage that you need, this mat is offered in small, medium, and large sizes. On the small Grypmat, you will have access to six different areas on the mat to organize what you need.
The medium mat is large enough for you to fit several of your hand tools. It offers five sections, with three of those areas being long enough for bigger tools.
The large mat offers built-in handles so you can transport all your tools without losing their placement. You will have three large areas for gripping in the middle, with rulers on either side.
You don't have to do much to keep it clean, since it just needs a wipe-down with a damp cloth. You can easily wipe away any type of chemical, grease, dust, or dirt, and you won't have to worry about leaving a stain behind.
If the mess is especially out of control, you can use a little soap and water.
The material is resistant to damage and decay, so you shouldn't need to replace it ever.
Purchasing Grypmat
The price that you cover for the Grypmat will largely depend on the donation that you make to the campaign. These mats aren't available for pre-order yet, but you can submit various donations to secure your product when they ship out, which should be in June 2017.
Choose from one of the following options:
$30 plus shipping, for a small 6" x 12" mat with six compartments
$35 plus shipping, for an 8" x 12" mat with two compartments and a large field
$60 plus shipping, for both a small and a medium mat
$70 plus shipping, for a large 12" by 22" mat with four compartments and a large field
$100 plus shipping, for all three mats
$300 plus shipping, for three sets of each size
$1200 plus shipping, for a dozen sets of each size
Your pledges are initially used to fund the campaign. However, the creators of the Grypmat have already received what they need. At this point, you can just select the package that you want to use.
Grypmat Creators
Even though the crowdfunding website and the company's main website both feature plenty of information about the Grypmat, you may find that you have other questions.
If you want to learn more about the Grypmat, you can fill out the online form on the company's main website.
Grypmat Summary
The Grypmat is the perfect solution to prevent you from losing important materials and tools when you need to keep them nearby. Even though you've probably used slip-grip surfaces before, this mat takes it to an entirely new level.
Regardless of the size that you need, the Grypmat should soon become an essential part of your household.