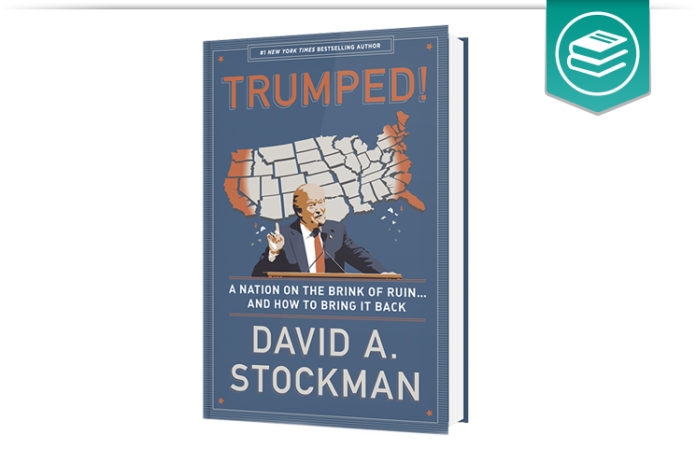 Trumped! is a book that recently appeared online one week before the US presidential election on November 8. The author wants you to read it before you vote. But what's it about? Find out in our Trumped review.
What Is Trumped?
Trumped is a non-fiction book by David A. Stockman. The book is subtitled "A Nation on the Brink of Ruin And How to Bring It Back". Trumped is available for "free" from the Agora Financial website. You just pay a small ($5) shipping fee and the book will be delivered to your address.
You might recognize Stockman's name from the 1980s. He was Ronald Reagan's budget director. He's also the founder and editor of a financial blog named Contra Corner and wrote a separate book called The Great Deformation.
Stockman is warning people that this year's election is one of the most important in American history. It's not just about politics. The entire American way of life could be at risk. Here's what he has to say:
"Whether you love or hate Donald Trump or Hillary Clinton, every American — including you — stands at a fork in the road this election. Your money… your job… the taxes you and your children pay… the freedoms you enjoy… and more hang in the balance."
With that in mind, Stockman claims Trumped is "my most important work to date."
What Will You Learn By Reading Trumped?
Trumped contains a wide range of information about the US presidential election.
It approaches politics from a "conspiracy theory" style slant, talking about how the government constantly conspires to keep Americans in debt with its "destructive zero-interest policies and money printing."
Here are some of the other lessons included in Trumped:
An explanation of how the last 30 years of financial and political misrule by the Washington and Wall Street elites in both parties "have brought the U.S. to the brink of ruin"
How the Federal Reserve's "zero-interest policies and money printing have buried" average Americans in debt
Why the elites are prospering massively while average Americans are earning shrinking wages with vanishing job opportunities
How a "massively bloated centralized government in Washington threatens incalculable harm to you and me"
Why the world's financial markets could possibly revert back to their 1929 state, including the trigger event that could set them off
"Mathematical proof that the S&P 500 is set to fall by 40% soon"
Five popular American stocks that you shouldn't actually invest in (even though everyone on TV is telling you to invest in them)
"The coming U.S. revolt that Brexit foreshadows"
The future of fixed income investments
The "200 Rulers of Finance" who are conspiring together to keep wages flat and interest rates at 0%
The book comes with historical proofs that show you "just how close Flyover America is to being robbed of the retirement they've worked decades for."
Stockman seems to use the term "Flyover America" as any American who doesn't have elite financial status.
Trumped Pricing
Stockman claims that the hard copy version of Trumped is typically available at a price of $23.90. That's the pre-order price currently listed on Amazon.
However, as part of the exclusive online offer that recently launched, you can get the book for the price of shipping ($4.95).
Your purchase comes with a couple extra bonuses. When you buy online through the exclusive offer, you'll get a bonus chapter not available through the Amazon copy.
That bonus chapter is called "An Election Season Mission to Help Every American Who Will Listen."
There's a second bonus offer that consists of a virtual town hall taking place on November 10. Stockman claims he's charged $25,000 to "share my ideas and insights on the economy and markets at seminars" – and you're getting this insight for free.
What's The Catch?
Obviously, if you've read this far and if you've visited the sales page for Trumped, then you're probably wondering, "what's the catch?".
The truth is: Trumped isn't really the main product being sold here. Instead, Trumped is just a book that you get for free when you sign up for David Stockman's Contra Corner.
The sales page advertises the product as if you're just buying Trumped! for $5. But in reality, the main goal is to get you to sign up for David Stockman's Contra Corner.
So what exactly is Contra Corner? It's Stockman's daily newsletter that includes up-to-date financial information.
You get daily recommended reading material (David claims he reads "hundreds of pieces every day so you don't have to") along with daily data charts. You also get 6 town hall meetings with David every year.
Ultimately, when you read the fine print, you'll realize that Trumped and Contra Corner do not cost just $4.95 for shipping. Instead, here's how pricing breaks down:
You pay $4.95 today and receive a copy of Trumped along with a subscription to Contra Corner
30 days after you order, your credit card will automatically be charged $39
You will continue to be charged $39 per month until you cancel
Ultimately, you're paying $39 per month for a daily email newsletter. Some people are willing to pay that price, while others are not.
The problem with this price is that it's advertised upfront as being just $5. Making things worse for buyers is that they have a strict no refund policy. It appears you can cancel your subscription at any time, although you'll never get a refund.
Trumped Summary
Trumped is a printed book that explains a number of issues surrounding the 2016 US presidential election.
Instead of talking about the pros and cons of each candidate, Trumped instead focuses on the fact that both parties have been quietly ruining the country for decades – and why that will likely keep happening after the 2016 election.
However, Trumped isn't the main product being sold on the sales page. Instead, Trumped is just an enticing upfront offer to convince you to sign up for David Stockman's Contra Corner, a daily email newsletter about the financial world.
David Stockman is the former budget director for Ronald Reagan and is a prominent figure in the financial news industry.
He approaches financial news from an alternative perspective, focusing on how a group of 200 financial elites are secretly controlling everything in the financial industry while conspiring to keep the average American in debt and with minimal savings.
Be careful when buying Trumped: the product is advertised as costing just $4.95 "for shipping and handling".
However, if you read the fine print, you'll learn that it actually costs $39 per month. That subscription fee starts 30 days after you first ordered the book.
If you don't mind the confusing pricing policy and you enjoy Stockman's alternative approach to financial politics, then this may be the book and newsletter for you.