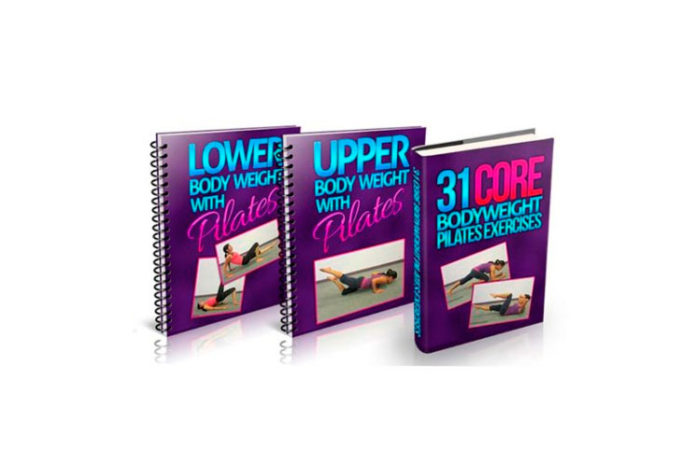 Bodyweight training is one of the biggest fitness trends of 2016. Today, we're reviewing Bodyweight Pilates, a downloadable eBook that promises to strengthen your core in just 21 days.
What is Bodyweight Pilates?
Bodyweight Pilates is a fitness program revealed in a downloadable eBook. That eBook is available to purchase online through the official website, BodyweightPilates.com.
The eBook and training program were created by Sylvia Favela, described as a pilates expert and health fitness coach.
Sylvia claims that just a few years ago, she was 43 pounds overweight and "on the verge of giving up".
Then, she suffered a knee injury, which made her even more upset. She couldn't do conventional cardio to try to lose weight.
That's when Sylvia found pilates. Over the years, she has used pilates to strengthen her knee and achieve a fit, lean, and sexy core.
She is no longer overweight, and she attributes all of her success to her bodyweight pilates workouts.
Today, she claims that her clients call her the "Queen of Pilates".
Benefits of Bodyweight Pilates
Bodyweight Pilates, also known as the BWPilates System, promises to give you the following benefits:
Strong, stable core
Functional strength from the inside out
Energetic and fun workouts
Better performance in the gym
Short and effective workouts
The energy to keep up with daily activities
Lean and toned physique
Bodyweight Pilates puts a big emphasis on the idea that pilates gives you a slimmer, sexier physique. However, pilates also improves your sex life, according to Sylvia.
First, pilates makes you look sexy because it targets your deepest abdominal muscles (your transverses abdominal muscles).
These deep muscles are the primary movers, and they act as your body's natural corset, cinching in the core to protect the spine every time you move.
At the same time, pilates improves your sexual performance because it strengthens your pelvic floor.
This comes with a number of benefits – including tighter muscles in the region and a better ability to control orgasms.
What Will You Learn in Bodyweight Pilates?
Bodyweight Pilates combines the core exercises of pilates with the ideals behind bodyweight training.
In bodyweight training, your body's weight acts as the resistance. You don't need equipment or machines. You just need your own body.
There are two over-arching goals with Bodyweight Pilates, including;
Goal #1: Stay Active and Agile
Goal #2: Improve your Physical Performance and Endurance
The Bodyweight Pilates sales page is filled with testimonials from women of all ages who have successfully used the techniques to lose weight, strengthen their bodies, and look sexier than ever before.
The core of the program is a PDF file that teaches you several workouts you can do every day.
The workouts take just 12 minutes per day, although you can extend them for longer workouts. The eBook features pictures of people doing the workouts, so you can easily follow along.
There are also dozens of additional bodyweight exercises in the bonus books, which we'll talk about more below.
What's Included with Bodyweight Pilates?
Bodyweight Pilates includes the core program along with some bonus eBooks. All of the materials are delivered to your inbox in digital format the moment your purchase is confirmed. Here are all of the things you get with the program:
Bodyweight Pilates Guide
Sylvia claims this eBook has a value of $77.99. It's a complete program overview along with a checklist of the steps to complete.
As Sylvia explains, there's "no second-guessing or trying to figure things out". All you have to do is read step one, do it, check it off, and move on.
Bodyweight Pilates Core
This additional core training program includes 31 core bodyweight pilates exercises. These exercises are delivered in image format via a PDF file, along with through a series of easy-to-follow videos.
You can download those videos to your mobile device to follow along wherever you go. Sylvia claims these exercises have a value of $87.99).
Bodyweight Pilates Upper
Focus on your upper body strength with these 11 additional exercises. After you've created your core foundational strength using the guides listed above, you can focus on your upper and lower body strength.
Bodyweight Pilates Lower
This PDF file features 11 exercises designed to strengthen your lower body. As Sylvia explains, "Now it's time to finish sculpting the masterpiece that is your booty."
Bodyweight Pilates Workout Calendars
Having trouble keeping track of your workouts? Bodyweight Pilates Workout Calendars are designed to help you stay on-track and accountable, ensuring you're constantly building new strength, flexibility, and power throughout the program.
Bodyweight Pilates Pricing
Bodyweight Pilates is priced at $15 USD.
Your purchase is processed through Clickbank. Bodyweight Pilates is exclusively available online through the official website.
After your purchase is confirmed, Bodyweight Pilates will email all of the digital downloads to your inbox. There are no physical products as part of this program.
On the ordering form, you have the opportunity to add a 7 Day Challenge Meal Plan to your order for $5 USD.
It's a 7 day meal plan designed to complement the effects of your Bodyweight Pilates results.
Bodyweight Pilates Review Summary
Bodyweight Pilates is a workout program created by pilates instructor Sylvia Favela. The program has been available since 2014.
It's designed to combine pilates with bodyweight training. You don't need any equipment. Sylvia promises to make you sexier, slimmer, and more toned in just 21 days.
The workout program is available online for $15, which is cheap compared to other workout programs on the market (even digital downloads).
The program consists of PDF files and videos, making it easy for you to follow along even if you've never done pilates before.
It's also delivered to your inbox instantly – so you don't have to sit around waiting for the program to arrive.
If you're looking for a unique new way to get in shape, then Bodyweight Pilates may be the right choice for you.