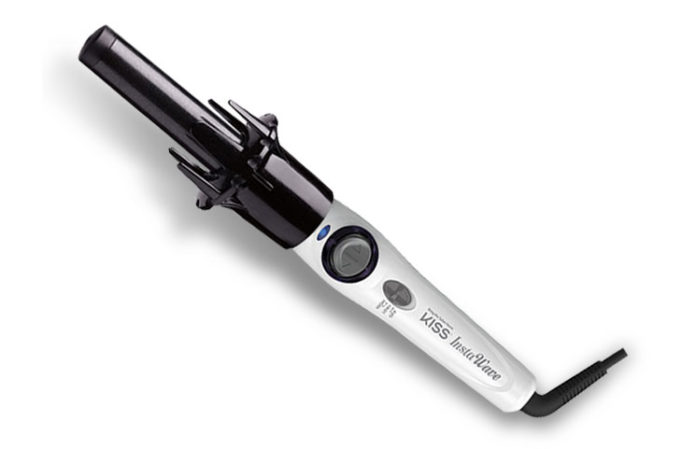 Kiss is a brand that provides their customers with beauty supplies at an affordable price but of professional quality. the beauty brand's goal is to offer people the possibility to get professional results from home. Originally providing nail kits, Kiss expanded their offer to eyelashes and hair care products, imposing themselves as the go to brand for salon quality from home.
What Is Kiss Instawave?
Kiss Instawave is an innovative, high quality curler offering a simple curling process. With the touch of a button, Instawave provides salon-quality and natural looking curls whilst being a device easy for anyone to use. Instawave makes hair look shinier and healthier as it uses ceramic ionic technology that distributes heat evenly, protecting the hair from heat damage.
In addition, Instawave is composed of a patented spinner that always ensures tangle-free curls. Instawave is a versatile tool that can create inner and outer-facing curls just by using the curl direction control button. Suitable for all hair types, this curler is equipped with a heat control button that lets the user choose the right temperature for their personal hair type.
Instawave Functional Features
Kiss Instawave curler is composed of 6 essential features making this tool an innovative and efficient must-have for anyone looking for salon like results without the difficulties that come with curling hair at home as most curlers are hard to handle.
Composed of one ceramic ionic barrel, a unique spinner specific to the brand, a power indicator light and left-right directional switch, power control switch and a swivel cord, Instawave is an easy to use professional and efficient tool designed to let users curl their heir in any position using any hand. Thus this easy to use and innovative device is suitable for both left and right handed users.
The ceramic ionic barrel is responsible for providing healthy and shiny looking curls as it maintains hair moisture unlike most curling irons which tend to harm hair texture inducing dryness and causing breakage. Instawave is a safe tool to use regularly as the ceramic ionic technology it uses protects hair from heat damage by distributing heat evenly on each strand.
Kiss Instawave has a spinner integrated on its barrel. The spinner is a patented tool and is consequently a specificity of Instawave that can't be found on any other curling iron. Instawave spinner is an essential characteristic of the curling device as it stops users from handling the difficult task of properly wrapping their hair on the barrel.
The spinner catches and automatically wraps hair around the barrel as long as users hold Kiss curler vertically and press the button controlling the curl direction. Thus, users only have to hold the device properly in order to create the ultimate curl as Instawave makes curling a trouble-free process for people who don't have the time or the budget to go to a hairdresser. Furthermore equipped with a swivel cord rotating to 360°, Instawave lets users move without any restriction making the curling iron an easy and adaptable tool. In addition to being an easy to use, high quality and efficient device, Instawave is also a safe product as it turns off automatically in case it has been inadvertently left on.
Kiss Instawave Availability and Pricing
The Kiss website provides you with clear step by step instructions on how to use the curling iron alongside a style guide for various hair lengths. In addition, the revolutionary product has been featured in numerous vlogger reviews such as GettingPretty's "Hairstyles For Short Hair + Easy Way to Curl Hair!" video and beauty blogs such as TheFabulous Report, PopSugar and InStyle.
Kiss Instawave can be purchased in several large retailers across the United States such as Walmart, Target, Walgreens and Harmon. The innovative, easy to use and efficient device can also be ordered online from the Amazon website for $28.49 USD. Thus, if you are looking for a curler that will provide you with professional and natural looking curls, Kiss Instawave is the ideal product as it is an easy, safe, efficient and high quality product.