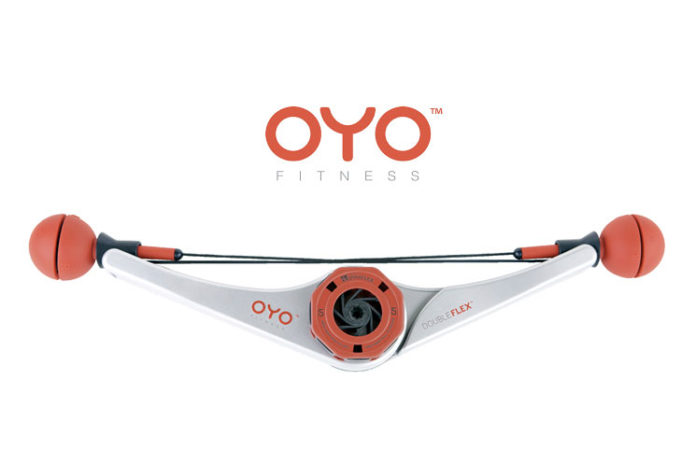 Doubleflex is a compact and portable piece of workout equipment that gives users the ability to use this device for over one hundred exercises with support from an accompanying workout routine DVD.
Many people use this device while watching TV to give them a good physical workout while watching television rather than being stuck in a gym or an extra bedroom on a heavy piece of equipment.
Please read below to find out more information about the Doubleflex device and how it can help users improve their physical fitness in a small, convenient, portable piece of equipment.
What is Doubleflex?
OYO Doubleflex in a home exercise piece of equipment that is portable and easy to use. This device offers over one hundred different exercise possibilities and comes with a fitness routine DVD which makes the workout options virtually endless.
This device is perfect for people who travel for work and have difficulty finding the space of reliability of gyms while traveling.
This piece of equipment is perfect for people who want an easy to use device that is portable allowing it to be used pretty much anywhere.
This device is great for people who are pilots who have limited space or time for a good quality workout.
This device also works great for business travelers who often do not have high quality gyms available while traveling. This piece of workout equipment is reasonably priced and easy to use. This device can be used by people of any fitness level.
How Does Doubleflex Work?
This device is designed to give users the same level of resistance as they would get from pricey, large gym equipment or free weights. This device utilizes a technology called SpiraFlex which was developed by NASA astronauts who were living and working on the International Space Station.
Users who want more of a workout simply attach the Flex Packs which help increase the levels of resistance in five pound increments (5, 10, or 15 pounds).
This device is designed to sculpt both sides of the muscle groups and help balance the body. The Doubleflex comes with leg and door attachments which allow a total body workout.
Every purchase of the Doubleflex device includes a nine workout DVD which helps users target different areas of their body through a few different styles of workout.
Consumers will also receive a fifty page guide that also helps outline workout ideas as well and nutrition advice to help people lose weight and gain lean muscle mass through their workouts and diet.
Doubleflex Components
Each purchase of the Doubleflex comes with the workout device, leg straps, door attachment as well as the workout DVD and a nutritional/workout routine. This device gives people over one hundred different workouts to keep fitness easy and workouts interesting.
Pricing
The Doubleflex device is available for purchase through the OYO Fitness website and Amazon. www.oyofitness.com
Each Doubleflex device costs $99.00. OYO offers a ninety day money back guarantee that will cover the cost of return shipping for any consumers who are unsatisfied with this product. This guarantee offers a full refund as well as replaces any defective parts within twelve months of purchase date. www.amazon.com
This device is also available through Amazon for the same price of $99.00. Consumers can receive free product shipping if they are members of Amazon Prime.
Doubleflex Review Summary
Doubleflex is a simple to use piece of workout equipment that is perfect for men or women who are looking for a piece of workout equipment that is portable and gives them a huge variety of exercises without having to visit a gym.
This piece of equipment is reasonably priced considering it replaces so many different kinds of workout equipment. When used with the DVD the Doubleflex fitness device will give users high quality workouts that deliver results.
There is not a huge amount of information available online about the specifics of this product but it gets reasonably good reviews.