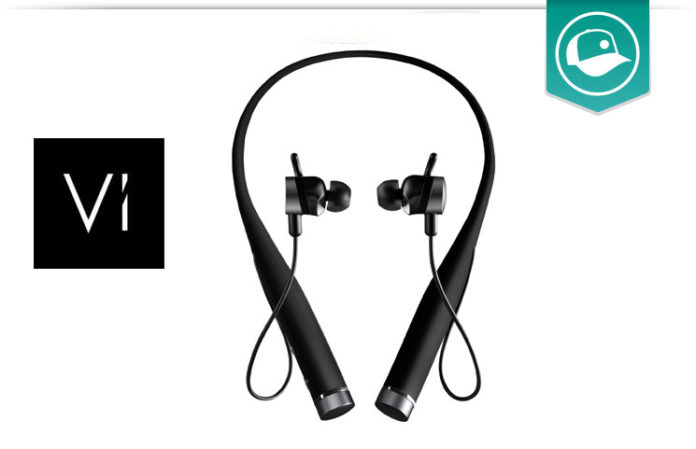 VI claims to be the world's "first true artificial intelligence personal trainer". Find out if it lives up to the hype today in our VI review.
What Is VI?
VI is a wearable device launched on Kickstarter in 2016. You plug in the headphones, wrap the device around the back of your neck, then get ready to hear feedback as you exercise.
Last year, VI raised over $1.6 million through Kickstarter, blasting past its $100,000 goal. Today, VI is available for anyone to purchase online.
Why should you start using VI?
The company behind VI, LifeBEAM, claims that VI will help you meet your weight goals, improve your running and cycling, boost the effectiveness of your training, and let you enjoy your favorite music or talk on the phone without ever touching a single button.
How Does VI Work?
VI consists of bio-sensing earphones and a small, lightweight wearable device that fits around your neck. Instead of calling it a wearable – like other fitness trackers – LifeBEAM calls it a "hearable device".
VI has partnered with Harman/Kardon to create the earbuds used with VI – so you can expect pretty good sound quality from the earbuds. The two other key features on VI include the AI personal training and voice/text interaction.
The AI personal training lets you set goals, get a tailored plan, and get real-time insights. The AI platform can also read your fitness app data.
Meanwhile, the voice and text interaction will recognize your speech, let you play music with your voice, and text message without ever removing VI.
VI Inputs & Sensors
How does VI track all of the information mentioned above? VI uses a number of different sensors and data inputs to give you actionable information about your workout.
Those sensors and data inputs include:
Heart Rate
Training History
Location
Weather
Elevation
Health Kit & Google Fit
Goals
User Anatomy
Speed
Cadence
Heartrate Variability
VI will use this information to learn more about you with every workout, adapting to your lifestyle over time.
As LifeBEAM explains, "Her artificial intelligence transforms raw data into insights and recommendations for you". Yes, LifeBEAM refers to VI as a "she".
How Does VI Improve Your Workouts?
In practical terms, Vi's AI engine can improve your training in all of the following ways:
Real-Time Coaching: Vi can improve your run in real-time by measuring your cadence, pace, and heart rate zones.
Goal-Run Guidance: Set your own running goals, including a record time, and let Vi track when you hit those goals.
Training Plan Creation: Vi can build a training plan for you to give you better long-term results.
Speech Analysis: Vi will familiarize herself with your voice over time, letting her become more accurate and responsive.
Vi's Evolving Voice: LifeBEAM claims that Vi has "a vast library of vocal prompts and dialogues that apply to a broad range of workout situations".
One of the key reasons why VI works is because of the placement of the mic: the wearable device that fits around the back of your neck features a small microphone located just below your chin.
This microphone also has wind and noise filtering – so even if there's a lot of background noise or heavy breathing, VI will still hear you.
VI Tech Specs
OS Compatibility: Works with iOS, Android, Apple Health Kit, Google Fit
Connectivity: Bluetooth and BLE
Battery: Rechargeable lithium polymer batter (3.72V 2 x 90mAh) that lasts 8+ hours
Audio Stack: High fidelity sound by Harman/Kardon
Weight: 43g
Sensors: Heartrate and heartrate variability sensor, 6 axis accelerometer and gyrometer, barometer, in-ear detection sensor, automatic speech recognition, earbud touch for voice trigger
Material: Aluminum cover (earbuds), plastic rear cover (earbuds), waterproof mesh (earbuds), transparent plastic bio-sensor cover, plastic front cover
VI Creators
VI was created by LifeBEAM. The company has previously worked with NASA, the US Air Force, and other major organizations. Prior to launching on Kickstarter in 2016, the company claims to have been developing Vi for over 18 months.
The company's official website describes how they're "changing the future of fitness through AI and aerospace-grade innovation".
There's no additional information on the official website – it just directs to the Vi sales page. So far, Vi is the company's only product.
You can get in touch with LifeBEAM using the online contact form here.
VI Pricing
Vi is available to order online today for $249 USD. If you order online today, you'll receive Vi within 5 to 7 business days.
VI Summary
Ultimately, VI has been described as like a cross between Amazon Echo and a Fitbit.
The device tracks your fitness activity and biometric information using high-tech sensors in your ears. You can give VI voice commands thanks to the magnetic tips placed around the back of your neck.
It's all connected together with the VI app, and the company describes all its hardware as "aerospace-grade" (which makes sense, considering the company has worked with NASA and the US Air Force in the past).
If you're looking for a combination between high-quality earbuds and a fitness tracker, then VI is one of the better options on the market today.