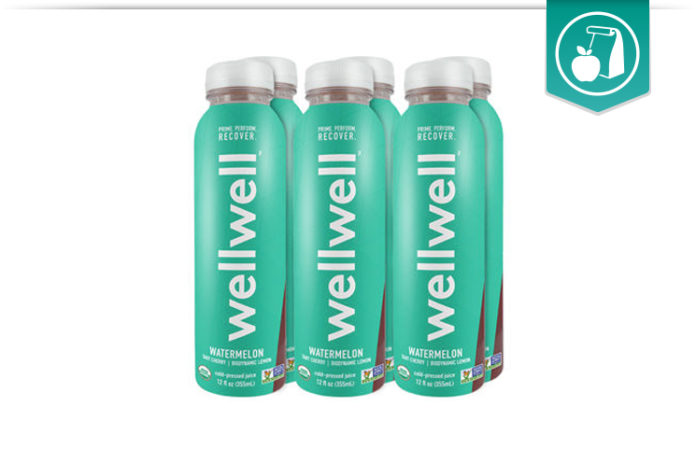 WellWell is an all-natural sports drink that promises to be a healthier, more natural way to recover from athletic activity. Here's our WellWell review.
What Is WellWell?
WellWell is a sports drink sold online and at supermarkets like Whole Foods.
The company's beverage promises to help you recover while consisting of 100% organic, cold-pressed juice. Each beverage contains high levels of potassium, antioxidants, L-citrulline, and lycopene for maximum recovery.
A 6 pack of WellWell beverages costs about $50 – so these aren't cheap sports drinks for those on a tight budget.
Let's take a closer look at what's inside WellWell.
WellWell Ingredients
Each bottle (12 fl oz / 355ml) of WellWell contains just three ingredients: cold-pressed, organic juice from tart cherries, watermelon, and "biodynamic lemons". That's it. There's no added sugar, artificial flavors, or preservatives.
As WellWell's official website explains, "It's the recovery recipe Mother Nature intended".
Surprisingly, the three fruits used in the formula contain all of the valuable recovery ingredients your body needs after a workout. Watermelon is rich with L-citrulline, for example, and tart cherry is rich with anti-inflammatory compounds.
Unlike other sports drinks, WellWell doesn't just give your body water and electrolytes. The beverage gives your body water, electrolytes, antioxidants, and amino acids – so it's like Gatorade and a BCAA complex rolled into one (although obviously, you'll get higher amino acid dosages from a dedicated BCAA supplement).
WellWell Nutritional Value
Each bottle of WellWell contains the following nutrients:
767mg of potassium (2 bananas' worth)
3657 ORAC of antioxidants (5 blueberries)
1000mg of L-citrulline
17mg of Lycopene (1.5x tomatoes)
WellWell Creators
WellWell was created by "sommelier-turned-MD/MBA Sagan Schutz and Michael Chernow", explains one interview by the company's founders.
Chernow had previously created New York City hotspots like The Meatball Shop and Seamore's. Schutz came up with the idea for WellWell after realizing that the powdered amino acids he was drinking after a workout aren't exactly good for the body. They contain artificial flavors and preservatives. Schutz thought there must be a better way.
Schutz investigated medical research and started tinkering with formulas in the summer 2015. Eventually, he discovered tart cherry concentrate, watermelon, and lemon was the ideal combination.
When the company calls its lemons "biodynamic lemons", by the way, it refers to the fact that they're highly sustainable and free of any pesticides.
Other key members of the company include Nike photography Collin Hughes as well as the founder of Dr. Praeger's Sensible Foods, Larry Praeger, who is the company's chief operating officer.
WellWell Pricing
WellWell is available online or in stores – particularly Whole Foods retailers. Here's how pricing breaks down:
By Bottle (12 oz / 355mL): $4.99
6 Pack (with Fedex Overnight Shipping): $49
You can subscribe to save 10% off your order, choosing a delivery of WellWell every 1 to 4 weeks. Based on the prices listed above, your best option is to buy WellWell by the bottle from Whole Foods.
WellWell is based at the following address in New York City:
182 Mulberry Street
New York, New York 10012
You can contact the company by online form at their website.
WellWell Summary
WellWell is a watermelon-based hydration formula that uses 100% cold-pressed organic juice to fuel your body. The beverage consists of just three ingredients: tart cherries, lemon, and watermelon.
WellWell was created by a group of New York City entrepreneurs, who tinkered with formulas and consulted medical research before launching their beverage back in 2016.
What advantage does WellWell have over other sports drinks?
The main benefit is that other sports drinks are just water and electrolytes. WellWell has water, electrolytes, and additional ingredients like amino acids and antioxidants. That means better recoveries – and a more natural formula.
Today, WellWell is available to order online or at Whole Foods retailers nationwide.