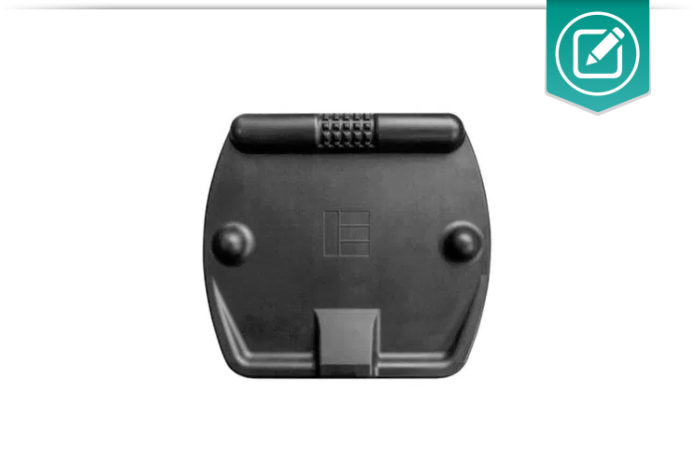 There are many ways to improve your fitness levels during the day and to ensure that you stay on track. But, part of the day where most people find it especially challenging to stay healthy is while at work.
After all, work requires that you sit at your desk for hours on end and oftentimes, you end up snacking on snacks and guzzling down energy drinks that are laden with sugars and other harmful ingredients.
If you're not a fan of the recommended standing desk, then the good news is that a new brand has revolutionized the concept to one that is actually feasible, workable, and easy to use. With that, this review would like to introduce you to CubeFit TerraMat.
What Is CubeFit TerraMat?
The CubeFit TerraMat is the standing desk – revolutionized. It is a "standing desk" unlike that which you have encountered before.
Unlike a traditional standing desk that can become tiresome and bulky to use, this one actually prevents fatigue and enhances your experience so that you can actually enjoy using it on a daily basis.
The product first appeared on Kickstarter to raise funds and with the goal of just $10,000. If you visit the site, you'll see that the product has surpassed its funding requirements and raised a whopping $108,507.
What Makes CubeFit TerraMat Different?
The traditional standing desk can cause serious burnout because all you end up doing is standing up in one spot for a prolonged period of time.
Doing so not only wears your joints down and causes fatigue, but it can also be boring and unenjoyable. Fortunately, when you choose the CubeFit TerraMat, you don't need to worry about getting tired or bored.
The desk concept is designed for those who want something interesting, effective, and easy to use.
Unlike the traditional standing desk, this one is essentially a platform that you stand on while at work.
The platform features a balance bar, massaging mounds, a support track, anti-fatigue mat, and pressure peak, and you can use each of these elements while standing at your desk all day.
This mat is also comfortable to stand on so that you don't need to worry about feeling uncomfortable at any point using the mat.
CubeFit TerraMat Features
There are many reasons to choose the CubeFit TerraMat over other standing desks on the market. Here are the main capabilities that make this standing desk different from other options:
Eleven Different Standing Positions
The first benefit to this product is that it features 11 different standing positions. With the various standing positions, you don't need to worry about getting bored or feeling uncomfortable during the day.
The various standing positions enable you to move around and to get some more activity in so that you can keep yourself healthy and in good shape.
Use in Any Direction
The second advantage of this standing desk is that you can use it in any direction. The desk can be turned and maneuvered so that you can incorporate different movements into your daily routine.
This quality also makes this standing desk a prime option for those who are concerned with getting bored while standing up for hours on end.
Power Wedge for Stretching
The third benefit is that it features a standing wedge that enables you to stretch your legs while at your desk. The stretching quality makes it easier for you to give your legs that extra level of comfort and fitness.
Better yet, you'll keep your legs in good condition and make sure that they are well taken care of as you stand up all day.
A Hip Flexor
The fourth advantage is that the device also features a hip flexor. The flexor enables you to stretch your hips and to keep yourself active.
You'll feel so much more comfortable and energized when you use all of the components of the device as you are meant to.
As you can tell, there are many benefits to be had when you add the CubeFit TerraMat to your daily routine. With this product, you get the full support that you need to keep yourself active and energized throughout the day.
You'll feel great as you use the mat and you can ensure that your body is well taken care of throughout the entire process.
CubeFit TerraMat Benefits
There are many benefits to be had when you add this device to your lifestyle. Here is what you can expect when you use the TerraMat on a daily basis and as expected:
Easy to Use
There is nothing better than using a product that is convenient and hassle-free. In this case, the standing desk is a mat platform that you put near your desk so that you can stand up comfortably.
There is nothing else that you need to do once you place the mat in the right area and start standing on it.
Improves Your Health
Sitting at your desk all day is extremely damaging for your health. Fortunately, you can give your body the boost that it deserves when you work this product into your routine. You'll burn calories as you stand and move around all day.
An Anti-Fatigue Device
The desk is also an anti-fatigue device. You don't need to worry about getting tired or bored with this product since it features various elements that will keep you moving around.
You'll love the added energy that you'll experience throughout the day when you choose this desk.
Purchasing CubeFit TerraMat
If you are interested in the CubeFit TerraMat, then you can purchase it through the brand's website or a third-party retailer. The price of the product is currently $129.00, which is after a $70 discount.
Once you order, the product will be shipped to you quickly.
CubeFit TerraMat Summary
Overall, the Cubefit TerraMat is a prime product that you'll love adding to your daily lifestyle. The mat makes it easier for you to stand up at work and to get the full support that you deserve for optimal results.
You'll be able to maintain your health and to develop a better body when you use this mat. To order and to learn more, visit the brand's website today.