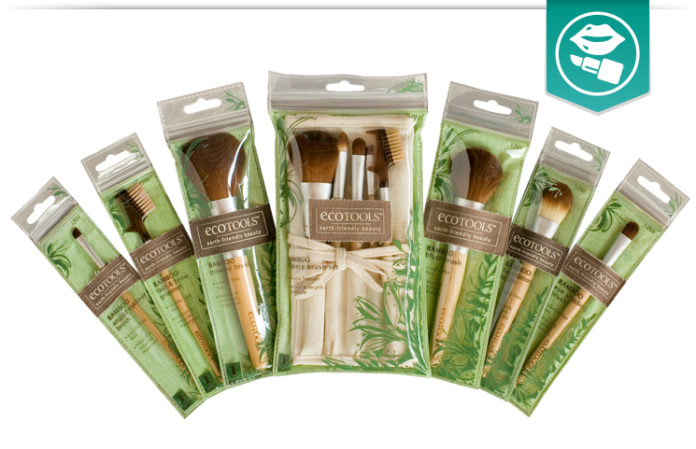 EcoTools is a company that makes environmentally safe products and applicators for using your favorite cosmetics. This company is constantly coming up with different options to help you expand your abilities and opportunities.
What Is EcoTools?
Makeup is a powerful way to take control of your own beauty. It gives you the chance to express yourself through colors, accents, contouring, and more. Every person is different, which is why there are so many products to help match your preferences.
The tools that you use for your makeup are just as important as the formulas and colors you use.
Most companies focus on delivering utensils that will get the job done, without any concern for the way that they're made. Now that eco-friendly products are gaining popularity, EcoTools is available to help you.
EcoTools offers products that are made predominantly of recycled materials, and have been in business for about ten years.
The brushes feature fibers that are softer than anything you will presently find on the market, which ensures that you won't have to strain your skin to smooth out your different formulas.
These products are cruelty-free and PETA certified. Without even the smallest fiber from an animal, you can feel secure in the fact that both your makeup and tools have only been created with the health of nature in mind.
This conscientious decision also includes the packaging of these products, using 20% cotton and 80% bamboo fiber.
EcoTools Products
The best part about EcoTools is that you're able to find nearly any type of brush, sponge, or other cosmetic tool that you can you use to improve your makeup.
Even though other brands have variety as well, they use fibers and materials that are not made with the safety of animals in mind, or the environment.
Check out some of the latest innovations from EcoTools, keeping in mind that there are plenty more to come.
Six Piece Starter Set
The six-piece starters set is the perfect collection for someone who is still building up their cosmetic skills.
It offers multiple different brushes to help you get the exact design that you want for your eye makeup. To maintain the set, you just need to wash the brushes weekly with warm water and the shampoo wash from EcoTools.
In this kit, you will find:
A large brush for powder and blush
A concealer brush
A "full shadow" brush
A "spoolie"
A brush for angled eyeliner
A cosmetic bag
This product is available for $12.99.
Perfecting Blender Duo
The Perfecting Blender Duo offers sponges in two sizes to help you blend your makeup properly in two different sizes.
The sponge pads are available in two different sizes, and EcoTools uses a specialized method to develop these pads called EcoFoam technology. With this method of creation, your sponge pad is made up of over 70% plant-based materials.
With the larger pad, you can apply your foundation to create a balanced look, while the smaller sponge is helpful in giving you more detailed coverage.
These sponges are available for $9.99, and can apply your makeup whether they are wet or dry to create a brand-new look.
Facial Cleansing Brush
The facial cleansing brush is a new way to penetrate the surface of your skin to get a deeper clean than ever before.
With soft bristles, you can use any kind of cleanser. You will massage your complexion to get in your pores and exfoliate the surface of your skin thoroughly. This type of attention to your complexion is exactly what you need to keep your skin clear and radiant.
To keep the brush looking healthy and performing at its best, you should rinse it and allow it to air dry after each use.
Travel Detangler
Keeping a brush in your purse or luggage is a helpful way to keep your hair looking ready for anything. You want to look your best everywhere you go, and this compact brush can fit in your purse or gym bag for easy packing.
The brush is made of faux boar hair to help you detangle your own mane, adding luminous shine to your hair. It's available for $6.99.
Purchasing EcoTools
The great part about EcoTools is that it's available in nearly every store you can think of. Since its origin, it's expanded to every major retailer in the industry, including AAFES, which is located on military bases.
You also can get these products directly from the website.
Contacting EcoTools
Even with the available information online, you may find that you have other questions that you want the answers to. That's why the customer service team is available to educate you.
The team is available by calling 1-844-284-0778. The team is exclusively available on weekdays from 8:00am to 4:30pm CST.
You can also fill out the online form to submit an electronic inquiry.
EcoTools Summary
EcoTools is an innovative company, inspiring other companies to consider their own policies about using animal products. You can find tools that help you improve your current cosmetic routine, regardless of your personal style.
If you want to see what these products can do, it's time to check out the different selection that EcoTools has available to offer.