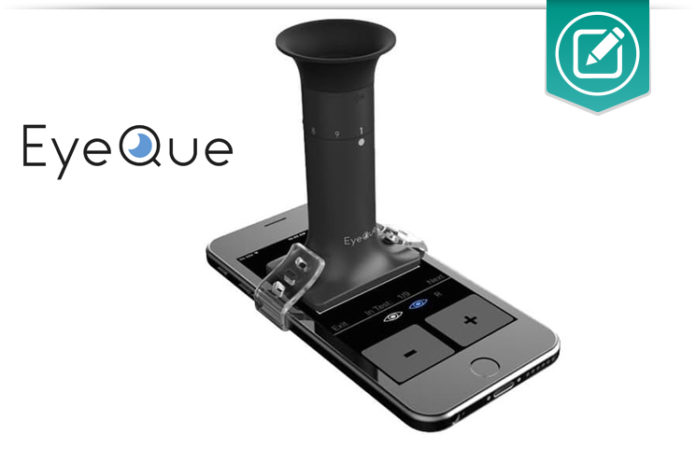 Have you ever wanted to test your eyes – but don't want to visit the optometrist? EyeQue is a personal vision test you can attach to your smartphone. Here's our review.
What Is EyeQue?
EyeQue Personal Vision Tracker is a smartphone eye test. The product launched on Kickstarter last year and went on to raise over 500% of its funding target (a total of $153,677 USD). Today, it's listed on Indiegogo and available for anyone to purchase.
EyeQue is a small plastic "miniscope" device that clips onto the front of your smartphone.
You install the EyeQue app on your phone, attach the plastic device to your phone, then place your eye against the plastic device, looking through it while the app tests your vision.
The San Francisco-based company calls it "an affordable and convenient high-tech vision screening tool".
Using the EyeQue, you can test your vision by screening your refractive error, your distance vision (nearsightedness or farsightedness), and astigmatism anytime, anywhere, and at a cheaper cost than visiting the optometrist.
How Does EyeQue Work?
EyeQue works with most modern smartphones. The full list is available at the official website. In general, if your phone was made within the last 3-4 years, you'll be able to use the EyeQue system – but be sure to check before you buy.
EyeQue supports iOS 9.3 and above and Android 4.x and above.
To use EyeQue, you attach the device to your smartphone and start the EyeQue app. The app will display various visual information – similar to the tests you would take at your optometrist.
Then, the app processes your test results using their "patented EyeQue Cloud technology".
Your vision record is returned with information about your spherical, cylindrical, and axis figures, which are the same measurements used by your eye doctor to generate a prescription.
You can view your eye test results at any time using the EyeQue dashboard.
The company calls its plastic device a "miniscope". It's a smooth, rounded tube with several lenses inside.
The company describes these as "highly engineered, expertly designed, and intricately manufactured lenses that can give you a measurement of your eyes' refractive errors in minutes".
How To Use EyeQue
Using EyeQue is straightforward:
Step 1) Install the free EyeQue app for iOS or Android
Step 2) Remove the protective sticker from the EyeQue miniscope and attach the device to your smartphone
Step 3) Look into the miniscope and relax your eyes
Step 4) Tap the buttons on screen to overlap the lines (this is the vision test)
Step 5) Rotate the eyepiece after each measurement. You'll go through 3 measurements per eye, although the full test is more comprehensive, with 9 measurements per eye.
Step 6) Review your progress and track your eyesight over time.
EyeQue Pricing
EyeQue is priced at the following rates:
Single Pack (1 Miniscope): $29 USD + shipping
Double Pack (2 Miniscopes): $56 + shipping
Family Pack (5 Miniscopes): $130 + shipping
Big Family Pack (10 Miniscopes): $250 + shipping
Business Pack (25 Miniscopes): $600 + shipping
Super Size Pack (50 Miniscopes): $1150 + shipping
Typical shipping costs to the United States and Canada are $10 for 1-2 miniscope orders. International shipping is typically around $15, except for the UK, where it's $20.
The estimated shipping date when purchasing through Indiegogo is April 2017.
Who Makes EyeQue?
EyeQue, found online at EyeQue.com, was invented at MIT. The company launched its project on Kickstarter in November 2016.
EyeQue is based in Silicon Valley. The company was founded by serial entrepreneurs Tibor Laczay and John Serri. To contact the company, email them at info@eyeque.com.
EyeQue Summary
EyeQue isn't your typical Indiegogo project. The company has already successfully funded itself on a different platform, and they started shipping their first orders in January 2017.
With that in mind, there's no risk to buying EyeQue from the company today. It's just like buying a normal product.
EyeQue promises to test your vision in an easy and affordable way. Instead of paying over $100 to visit the doctor, you can pay $30 and have a personal vision testing system for life.
The system consists of a small miniscope that fits onto the front of your smartphone. You look through the miniscope, twisting the knobs on the side, while running through the free EyeQue app.
The app tests your vision, then saves your vision data. You can track your vision data over time, or use the spherical, cylindrical, and axis figures to order glasses. It creates the same information your eye doctor uses to generate a prescription.
You can order EyeQue online today for $30.