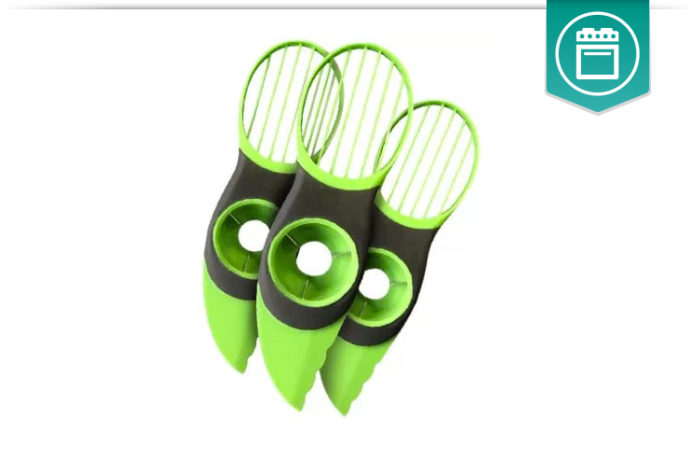 Avocado is a type of fruit known for its high and healthy fat contents. It can be used as an alternative for butter, as it can not only lower one's calorie consumption, but it can also induce softer baked goods. The main concern that leaves consumers stumped is having to efficiently remove an avocado from its natural peels. This is where the use of the Kitchen King is likely to satisfy not only consuming avocado, but preparing it as well.
Based on its ergonomics design, using the Kitchen King can easily remove and slice avocados evenly without leaving consumers hurt in any way. The purpose of this review is to further analyze it in terms of its intentions, its design and uniqueness, its uses and its current going price.
What Is The Kitchen King?
The Kitchen King is a kitchen essential that claims to remove an avocado from its peel within seconds. While it can remove an avocado efficiently, it is also made with the intentions of safely pitting and slicing avocados in an effective matter.
How To Make Efficient Use Of The Kitchen King?
In order to maximize the usefulness of the Kitchen King, consumers must slice the avocado lengthwise with the plastic blade. After doing so, the pitter must be positioned above the pit, which releases the pit upon pressing the pitter and twisting it out.
To release the pit from the Kitchen King, consumers must simply push it through the small hole. Lastly, by pressing the slicer into the avocado, it will scoop the avocado out into even slices.
What Differentiates The Kitchen King From Others?
The Kitchen King's design is what makes it a potentially easy-to use tool when it comes to preparing avocados. Firstly, its plastic base and knife are said to ease one's cleaning responsibilities, as they are dishwasher friendly or can be simply rinsed using water and a cloth.
In addition, the use of plastic makes it a friendly tool for all ages to use. Lastly, its lightweight and compact design can make it easier for consumers to hold, grip onto and use throughout the entire process.
Purchasing Kitchen King
The Kitchen King currently comes in a color combination of green and black and was once priced at $29.99, but its current going price is approximately $14.99. This is a fairly decent price given that it cannot hurt someone while preparing avocados and it may also eliminate the likelihood of leaving behind avocado leftovers in its peel. Other currently offered deals include:
Buy one get one 50% off: $24.99
Buy two get one free: $29.99
Kitchen King Summary
Overall, the Kitchen King claims to prevent difficulty when trying to separate an avocado from its peel. In addition, it is designed to eliminate messiness, as it can simply slice an avocado evenly in a hassle-free manner. Most importantly, consumers can feel relieved as it may eliminate the chances of having to go through horrific accidents. For more information, go to: trykitchenking.com