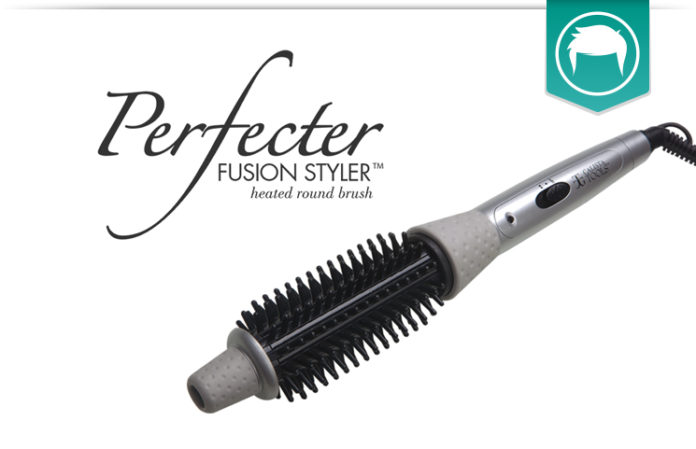 The Perfecter Fusion Styler is a hair accessory that helps you to create plenty of different looks without the damage that normal heated tools cause.
You can try out the product for a low price for the first month, before you commit to its purchase.
What Is The Perfecter Fusion Styler?
You want to look your best every day, but that doesn't always happen for you. When you're in a rush, the part of your routine to get the cut is normally your hair, especially if it's long.
Blow-drying, curling, and straightening can take over an hour for some people, but a ponytail can be completed in just a few seconds. However, you don't have to keep straining your hair in a hair-tie with the Perfecter Fusion Styler.
The Perfecter Fusion Styler offers a heating element within a round brush. With both ceramic materials and ionic technology, you can create curls, straight hair, or even just a little extra body. The process only takes about three minutes before you're out the door, ready for the day.
The tools that you currently have in your bathroom to curl and straighten your hair, or even just to dry it, all use intense levels of heat. With this heat, even with protective sprays and serums, you end up damaging your hair and weakening its structure.
You become more prone to breakage and other types of damage, which will not allow you to create the appearance you want. With the nourishment that the Perfecter Fusion Styler offers, you can finally soothe your thirsty strands.
How Perfecter Fusion Styler Works
The reason that the Perfecter Fusion Styler is so effective in improving your hairstyle is due to the use of ionic technology. Ionic technology uses the humidity in the air to deliver it effectively to the brush, which means your hair feels hydrated and soft at the end of the styling.
All you need to do is brush your hair with this element. Due to the delivery of moisture from the brush, you don't have to worry about frizz in the same way that you would with regular dry-brushing.
There are two setting to customize your styling experience, with the low heat at 356 degrees for shorter, finer hair, and the highest level at 392 degrees for thicker hair. With a six-inch circumference, you get to enjoy the bouncy waves that every girl wants.
Using The Perfecter Fusion Styler
When you style your hair, the Perfecter Fusion device works a little differently from your regular curling iron, but it shouldn't take long to get used to the new method.
Rather than curling your hair from the bottom of your hair to your scalp, you just need to wrap a section of your hair around the Perfector, starting at the top of the scalp. Once the curl is set, you can slowly pull down the Perfector to release the hair.
You don't need to worry about burning yourself, since the bristles prevent you from touching the heated area of the Styler.
The Perfecter is delicate and gentle on hair, which means it's safe enough to be used on your child's hair as well. It can be used for any hair type, regardless of ethnicity. You can even use it with extensions, if the extensions are made with human hair.
To maintain the cleanliness of the brush, you just need to use a cotton swab with a little rubbing alcohol to wipe away residue.
Purchasing Perfecter Fusion Styler
The hard part about picking a hair styling tool is that you don't know how well your hair will react to the treatment, and you don't want to waste your money on something that isn't right for you.
Instead of paying full price from the start, you will only have to cover $1.00 to use it for a whole month, along with the $4.99 fee for shipping and handling.
To keep the Styler after the month is over, you will need to pay a total of $79.96. Choose from:
Pink
Silver
Purple
Navy
Teal
If you decide to keep the Styler, but find that long-term use will not suit you, then you have up to 60 days to initiate a return. If you abide by the two-month period, you will be able to get a complete refund, except for shipping.
Perfecter Fusion Styler Contacts
Even with the information and videos provided on the website for the Perfecter Fusion Styler, you may still have other questions that you would like to address before your purchase is made. The company can easily be reached via phone call or email.
To call the company, you can use 1-973-287-5199. The team is available to speak to you on weekdays from 9:00am to 8:00pm EST, and then on the weekend from 9:00am to 5:00pm EST.
If you prefer electronic communication, you can send a message to info@buyperfecter.com instead.
Perfecter Fusion Styler Summary
The Perfecter Fusion Styler is the perfect addition to anyone's routine as they prepare for the day, giving you back all the wasted time you spend with hair products and heated tools. You don't need to damage your hair to look as radiant as you feel.
Instead, use the Perfecter for your night's out, your work days, and your afternoons at home, without wasting a huge chunk of the day.