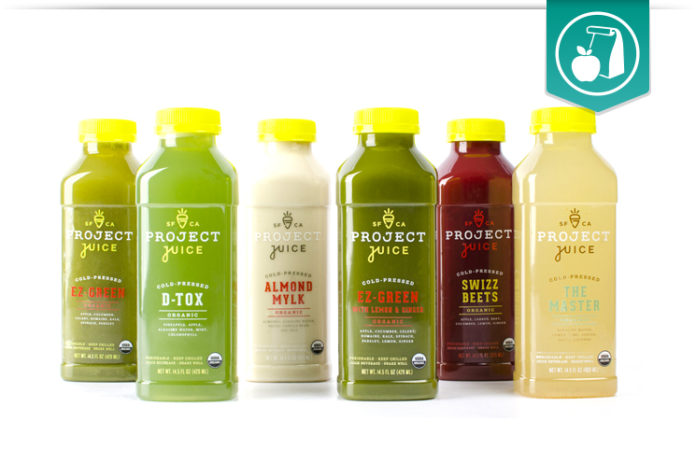 It's no secret that the modern diet is lacking. Because so many preservatives are added to foods to allow them to stay in freezers or on shelves longer, many of the nutrients that people need to thrive are missing from their foods.
With the rising cost of fresh fruits and vegetables, this problem has only gotten worse over the years.
One solution to getting the nutrients needed on a daily basis is juicing. Extremely popular, juicing allows users to consume all the fruits and veggies they need in one convenient drink, making it easier than ever to meet their nutritional needs.
In order for juicing to work properly, people need to use just the right juices. Project Juice has created a range of juices that provide users with very specific benefits, allowing them to pick and choose what they need when they need it.
By making it easier for customers to select pre-made juices, Project Juice has made it easier for people across the country to live healthier, happier lives.
What Is Project Juice?
The name Project Juice came from the idea that so often people think of their lives as a project.
They set goals, like eating better or exercising more, working towards them to get their results. Project Juice picked its name because the company has dedicated itself to helping its customers complete their projects.
By developing and providing customers with the highest quality juices and foods, Project Juice is making it easier for them to stay healthier, so they can fulfill their projects, reaching and surpassing their goals.
Project Juice was started out of necessity by a group who were suffering from food sensitivities and allergies.
Through intense research, it was discovered that many of the foods purchased in regular stores contained chemicals and compounds that wreaked havoc on the body, causing these allergic reactions.
In an effort to stop the reactions and improve their general health, Project Juice was started. The company was based around the clear goal that plant-based eating and drinking offered better health benefits.
Now, the company sells its cold-pressed juices and plant-based meals to give its customers the nutrients they need to live healthily and experience real wellness.
What Makes Project Juice Different?
The biggest difference between Project Juice and other juice companies is that Project Juice only sources from the best certified organic farms in the country.
By using organic products and sourcing from local farms, Project Juice doesn't just support the health of its customers, but also supports small, family-run businesses.
Using these fresh ingredients also allows Project Juice to provide its customers with a wide range of delicious foods, all with high nutrient content, since they're made from fresh from the farm ingredients.
Project Juice isn't just about mixing a few fruits and vegetables together and hoping for the best. The company is committed to creating products that provide real support, which means creating the best mixes to reach specific goals.
Project Juice mixes its juices, smoothies, and foods to provide customers with options that will help them with their very unique needs. Whether it's to boost the immune system or lose weight, Project Juice has an option that works.
Project Juice Products
Even though Project Juice started out as a small company, it has grown to include many different products broken down into very specific categories. These categories make it easier for customers to find exactly what they're looking for, saving them time.
A list of the different purchasing categories available through Project Juice, as well as a description of each, can be found below.
Project Juice Custom Juice Packs
The custom juice packs sold by Project Juice allow customers to mix and match their favorite juices. These juices are all designed to meet the personal needs, as well as unique tastes, of each customer.
For those purchasing more than six juices, the ability to add Wellness Shots is also possible with the Project Juice Custom Juice Packs.
Project Juice breaks its packs into the following categories, offering several juice options in each category.
Greens – Juices that are veggie based, supporting detoxing, increased nutrition, and better digestion.
Citrus – Juices made from citrus blends that refresh drinkers while also balancing pH levels and suppressing the appetite.
Blends – Juices that heal, energize, and hydrate the body, using vitamins and enzymes.
Nut Mylks and Shakes – Meal replacement beverages that improve sports performance, sleep, and leave drinkers satiated.
Customers can also add bottled chef-crafted soups to their Custom Juice Packs.
Project Juice Wellness Packs
These pre-made packs are designed to include juices and wellness shots that all work towards a single purpose. Perfect for those with specific needs, these packs don't require any mixing and matching, since they're already designed for customers.
The packs available through Project Juice are listed below, with their prices.
 Weekend Recovery Kit ($85)
 Paleo Pack ($105)
 Detox Companion Kit ($170)
 Morning Bride Beauty Kit ($110)
 Defense Kit ($99)
 Alkalinity Kit ($85)
Additional information on these packs, including their contents, can be found on the company website.
Project Juice Organic Juice Cleanses
Project Juice designs its cleanses to help the body break down old foods and eliminate waste. While everyone will have different needs when it comes to cleansing, Project Juice provides several options for customers, making it easier to select and start a cleanse.
A list of the cleanses available through Project Juice can be found below.
 Rejuvenation Cleanse ($90/Day)
 Classic Reset Juice Cleanse ($75/Day)
 Seasonal Reset Juice Cleanse ($75/Day)
 Advanced Reset Juice Cleanse ($75/Day)
Project Juice also allows customers to build their own cleanses.
More information on Project Juice juices, as well as how to buy the juices and smoothies a la carte, can all be found on the company website, where discounts and seasonal specials can also be found.