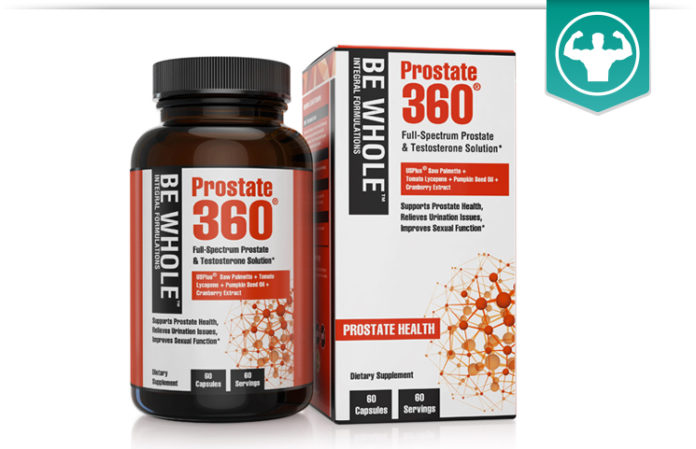 Prostate 360 is a nutritional supplement that promises to solve your prostate problems using natural ingredients. Find out if Prostate 360 is too good to be true today in our review.
What Is Prostate 360?
Prostate 360 is a nutritional supplement available on Amazon at a price of around $25 USD per bottle. the supplement describes itself as a "full-spectrum prostate and testosterone solution". It can be used to relieve prostate problems and boost your testosterone. As men age, both of these issues become more and more important.
Unlike prescription medication and other pharmaceutical solutions, Prostate 360 uses a blend of herbs and natural extracts that purportedly relieve prostate problems while raising testosterone levels.
In addition to solving prostate and testosterone problems, Prostate 360 promises to boost sexual performance. In fact, many ED issues are tied to prostate problems. So by relieving your prostate problems, you can also improve your sexual performance.
All of this sounds good – but does Prostate 360 actually work? Let's take a closer look at the science behind Prostate 360.
How Does Prostate 360 Work?
Prostate 360 describes itself as a "full spectrum" solution. Instead of targeting just one aspect of your prostate health and testosterone, Prostate 360 promises to target it from multiple angles. Some of the key ingredients in Prostate 360 include:
Saw Palmetto Extract
Pumpkin Seed Oil
Tomato Lycopene
Cranberry Extract
Many of these ingredients can be found in other prostate and testosterone health supplements. Saw palmetto extract, for example, is one of the most popular herbal testosterone boosters on the market – despite the lack of major scientific evidence showing it can reliably raise testosterone.
The manufacturer of Prostate 360 claims the above ingredients can lead to all of the following benefits:
Increase overall testosterone levels in the body
Boosts prostate health
Relieves urination issues
Improves sexual function
Prevents prostate-related degenerative diseases
These benefits are all linked to prostate health: many older men suffer urinary problems because their prostates are enlarged. An enlarged prostate also leads to an increased risk of major prostate diseases. When your prostate is enlarged, it has effects throughout your body.
There's one weird thing about Prostate 360: most research shows that higher testosterone levels are linked to enlarged prostates. Men with higher testosterone levels are often at an increased risk of prostate problems.
That's the same reason why "prostate disease" is a major side effect of steroid use (steroids raise testosterone levels). The weird thing is that it claims to raise testosterone levels while also improving your prostate health – when in reality, most research shows it doesn't work like that.
In any case, the makers of Prostate 360 claim to raise your testosterone using ingredients like saw palmetto, cranberry extract, and pumpkin seed oil.
The saw palmetto used in Prostate 360 comes from wild-harvested Florida saw palmetto berries collected using the SuperCritical CO2 extraction process. The manufacturer of Prostate 360 claims their saw palmetto extract is 7 to 10 times stronger than traditional saw palmetto powders.
Prostate 360 Ingredients
Prostate 360 makes big promises about its ingredients. However, when you look at the supplement facts on the side of the bottle, you'll find that there are surprisingly low dosages of each ingredient in each capsule. Here's the formula inside each capsule:
250mg of saw palmetto extract
115mg of pumpkin, olive, and cranberry seed extracts
5mg of tomato lycopene
It's weird that the manufacturer of Prostate 360 has labeled the pumpkin, olive, and cranberry seed extracts under one formula. We don't know how much of each individual extract is inside the formula.
Cranberry extract is backed by scientific benefits – but it's unlikely that the dosage seen in Prostate 360 is large enough to have any beneficial effects on your body.
What about the saw palmetto extract dosage? The Mayo Clinic reports that saw palmetto extract is typically taken in doses of 100 to 960mg, with the average dose being around 160 or 320mg per day, split into two doses. That makes the dosage in Prostate 360 look good.
Ultimately, based on the ingredients and dosages in Prostate 360, the supplement seems like a saw palmetto extract supplement with trace amounts of other ingredients. Essentially, you're paying for a saw palmetto extract supplement.
Prostate 360 Reviews
Prostate 360 is backed by strong reviews on Amazon, where it has an average rating of 4.4 stars out of 5 with a total of around 100 reviews. Most reviews (67% of all reviewers) gave the supplement 5 stars. However, many of these reviews have an awkward "fake" feel to them. Nevertheless, here are some of the pros and cons reported by customers:
Pros
Many men claim that Prostate 360 has cured all of their major health problems, including urination difficulties, an enlarged prostate, and sexual dysfunction
Some men take it because there's a history of prostate cancer in their families, and they want to reduce their risk
100% organic with no GMO ingredients
Third party tested formula made in the United States
Some men claim that they've prevented hair loss using Prostate 360 (saw palmetto is frequently used for this purpose)
Cons
Many ingredients are too weak to have a major effect on the body
Many customers claim the supplement was totally ineffective
Customers complain about misleading fake reviews on Amazon
Overall, most of the negative reviews on Prostate 360's Amazon page claim they were duped by fake reviews – which is why the supplement has such an unusually high rating.
Who Makes Prostate 360?
Prostate 360 is made by a supplement manufacturer named Be Whole. That company makes a lineup of supplements that promise to help you "be whole again". In addition to Prostate 360, the company sells supplements like Flex Pro MD, Go Easy, and NatruCal.
All of these supplements make big promises about their health benefits – especially for older adults.
Be Whole is based at the following address in Florida:
5840 Hwy 60 E
Plant City, FL 33567
You can contact the company by email form their website.
Prostate 360 Pricing
Prostate 360 is available from Amazon at a price of $24.74 USD.
You can save money on your order by buying multiple Be Whole products at the same time. If you buy two products with your order, you get 10% off; 3 products you get 15% off; and 4 or more you get 20% off. The promo codes can be found on the official Amazon page.
Prostate 360 Summary
Prostate 360 is a nutritional supplement targeted towards older men who have prostate problems and low testosterone. The supplement promises to cure all of your prostate problems and sexual dysfunction. All you need to do is take a pill once per day.
The Amazon page for Prostate 360 doesn't even mention the ingredient dosages. Once you check the bottle's labeling, however, you'll learn that it's basically just a saw palmetto extract supplement with trace amounts of other ingredients.
Complicating matters further is that the Prostate 360 Amazon page is filled with seemingly fake reviews. The few "real" reviews seem to have had a negative experience with the supplement.
Ultimately, there's some evidence saw palmetto extract can cure sexual dysfunction and reduce the size of your prostate. However, you can find saw palmetto extracts for half the price of Prostate 360 on Amazon.