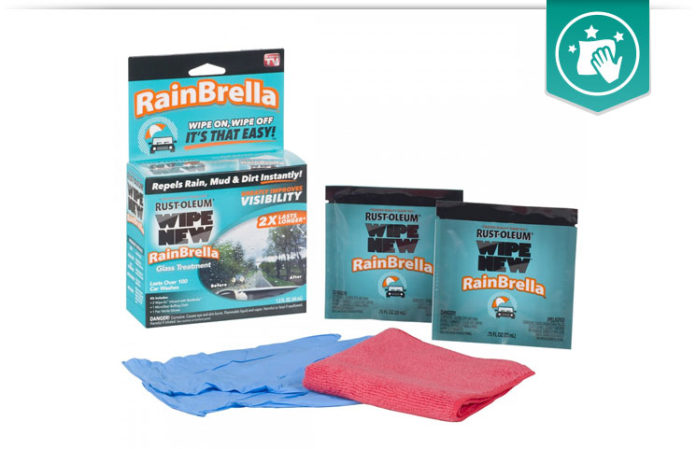 Clear visibility while you are on the road is the best way to stay safe and accident free. While it seems that seeing out of your windshield seems like it can be a "given," this isn't always the case.
Elements, such as extreme rain and dust can cause your vision to be obscured for long enough to create dangerous driving conditions. Even though you probably have windshield wipers on your car, do they always work? Are you good about replacing them?
If not, it is best to get a second layer of protection. This is exactly why Rustoleum has introduced Wipe New Rainbrella to the market.
In a bout 15 minutes, you can upgrade your current windshield to be resistant to adverse weather and other unwanted elements that can come between you and traveling on the road as safe as possible.
Ultimate Glass Protection In An Instant
Protecting your glass and repelling the elements is exactly what Wipe New Rainbrella aims to do. By making sure that you are safe from all of the elements that could have a negative effect on your vision while you drive.
The best way to avoid accidents and stay safe is to make sure that you can see all of the action that lies ahead on the road in front of you. These wipes are exactly what you need to make sure that nothing comes between you and your safety.
Here is how they help improve your car and shield it from the conditions:
Specially formulated formula is haze and streak free
Glass is crystal clear after application
Lasts at least twice as long as the competition
Protection delivered through 100 washes
Prevents mud, dirt, and rain from sticking to your windshield
Easy, fool-proof application in a couple of wipes
Quick And Easy Application
Each Wipe New Rainbrella package comes with everything that you will need to treat your front windshield, regardless of what size it is. Included in the box are 3 items. There's an application wipe and buffing cloth made of microfiber, and a single pair of gloves.
These are all the tools that you will need to protect your windshield from all the elements. All you do is use one wipe to put on the first coat, and allow 5 minutes after application for it to dry.
Use the cloth to buff the glass, and then apply with the second wipe that is provided. Again, allow 5 minutes to dry and buff with cloth. At this point you will have a crystal clear shine that will withstand anything you encounter, for at least 100 washes.
Improved Visibility That Lasts
Keeping your windshield free of dirt, dust, mud, rain and sleet has seriously never been so easy. Every car in your household can benefit from Wipe New Rainbrella! The uses are virtually endless. These wipes can be used on other types of vehicles, too.
Watercraft, like boats and jet skis, ATV and other all terrain vehicles, side mirrors, rear windows, moon/sun roofs, and even sky lights in your home. If you start with one package for your car you will surely need more for other vehicles in your life.
Order yours today and be on your way to a clean windshield that hold up to every kind of abuse that it experiences, and it keeps on going! Don't let hazardous conditions worry you ever again. Instead, buy the protection that you need to keep you and your family safe!