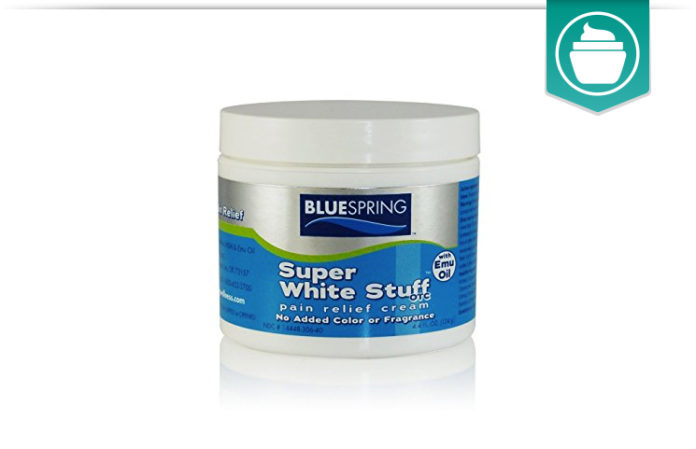 People who are looking for a topical cream that will help reduce muscle pain will want to consider trying Super White Stuff.
Formulated with natural peppermint oils and other effective ingredients, this cream works quickly to naturally reduce pain and discomfort caused by arthritis or overuse. Please read below to learn more about Super White Stuff by Bluespring and find out how to purchase a jar.
What Is Super White Stuff?
By utilizing the active ingredient menthol alongside eleven other ingredients Super White Stuff is a quick absorbing cream to help alleviate pain. People who regularly experience muscle pain will find great benefit by using this product.
Super White Stuff works as quickly as five minute after application to help minimize arthritis pain as well as muscle cramps and pain. Recommended by doctors and sports professionals, Super White Stuff offers a non-greasy solution to managing pain and discomfort due to joint or muscle issues.
All purchases of Super White Stuff come with a sixty day money back guarantee. This means consumers can try this product on their biggest problems and if it does not work they are not out any money.
How Does Super White Stuff Work?
All natural menthol from peppermint plants Super White Stuff helps stimulate the body's cool receptors giving sore muscles cooling pain relief. Menthol acts as an anesthetic which reduces irritation and quickly soothes muscle aches and even pain from sunburn.
People who regularly manage arthritis flare ups or back pain will want to keep a few jars around their house and office for quick relief.
Bluespring Wellness started their pain relief line with the Super Blue Stuff Cream and quickly developed this formula which suitable for people with sensitive skin and it has no added colors, dyes, or fragrance. The only scent is of natural peppermint which is calming.
For best results users should apply a small amount frequently. It is best to wait at least five minutes between applications and reapply fi pain remains. Super White Stuff can be applied three to four times per day. It has a cumulative effect which means when used regularly overtime the body will need fewer applications for optimum pain relief.
Super White Stuff Ingredients
This product contains a 1.4% level of menthol which has been a proven level for over the counter pain relief creams.
Menthol is combined with ten other natural ingredients including coriander oil, calendula extract, aloe vera, emu oil, cornflower extract, lime tree extract, and chamomile extract which help increase the product's effectiveness and smooth greaseless texture.
Super White Stuff Pricing
Consumers can purchase Super White Stuff online through the company's website as well as Amazon.
Bluespring Wellness
Super White Stuff is available in two different jar sizes. A 1 ounce sampler jar is available for $9.95.
Each 4.4 ounce jar is available for $22.95 and can be purchased one at a time or purchased as part of an auto-ship program.
Bluespring Wellness also offers quantity discounts.
Amazon
The 4.4 ounce jars are available through Amazon for the same price at $22.95 each. This item is eligible for free shipping with qualified Amazon purchases totaling $25.00 or more.
Amazon also offers quantity discounts of ten percent off two containers and up to 24% off twelve jars.
Should You Use Super White Stuff?
Men and women who are dealing with frequent pain whether caused from sports or arthritis can benefit from a topical cream that offers instant relief.
Since Super White Stuff offers a cumulative effect uses will notice that their body starts to need less product overtime helping save money without sacrificing pain relief. Further information is available online at bluespringwellness.com.