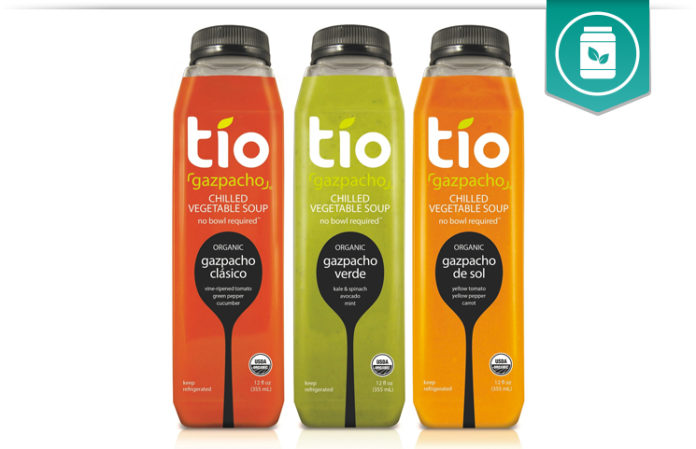 Nothing can make a relaxing day indoors more than a warm cup of soup. It is one of the most diversified foods out there, where people of different backgrounds have come up with a wide range of recipes that best represents themselves and their childhood.
While it may seem like making a soup requires very minimal work, to make the best and satisfying cup of soup requires a lot of key seasonings, vegetables, choice of protein and some liquid base; either store bought or homemade.
Tio Gazpacho has made all the lives of soup lovers much easier by providing a variety of chilled soups. This is great for anyone on the go, something that's quick and easy to make, and it is just as healthy as making one's own batch of soup right at home.
Let's take a closer look at Tio Gazpacho and their wide range of flavors that will have consumers feeling maximum comfort.
What Is Tio Gazpacho?
Tio Gazpacho is a brand that creates all natural chilled soups. Each and every one of their available soups excel in quality and flavor, as each chilled soup is made non-GMO, gluten-free and vegan.
In addition each soup is made to ensure that no trace of additives, flavors, chemicals or funky ingredients are used for quality purposes.
In other words, it will be just like cooking at home, all the ingredients that can be food within one's kitchen, consisting of: raw veggies, fruits, olive oil, vinegar, Himalayan pink salt and a splash of veggies.
Let's take a closer look at the 6 flavorful chilled soups Tio Gazpacho offers.
Tio Gazpacho Flavors
Tio Gazpacho carries 6 different flavorful chilled soups that are certain to please one's taste buds and they are:
Clasico:
This chilled soup's flavor consists of vine-ripened tomato, green pepper, garlic and cucumber. This is a traditional soup made in Spain. The texture of this soup is a little towards the creamy side and goes great with any given meal; breakfast, lunch or dinner.
De Sol:
This chilled soup's flavor, similar to that of the Clasico, consists of vine-ripened yellow tomatoes, freshly squeezed carrot juice and yellow bell peppers.
These key ingredients result in a creamy texture as well, ensuring that consumers are full after having included this soup with a meal of their choice.
Fresa:
This chilled soup consists of a wide range of different ingredients that may leaves consumers wondering whether its taste factor is on par. This chilled soup consists of strawberry, romaine lettuce and basil.
The sweet and savory component found in basil complements bitter and sweetness in strawberries, ultimately resulting in a well balanced flavor content.
Maiz:
This chilled soup has been inspired by the Tex-Mex flavors found in many Mexican inspired dishes. The ingredients found in this soup are corn, roasted poblano peppers and lime.
All of the ingredients found in this soup are rather savory and the lime kind of gives a punch to the overall flavor content.
Rosado:
Every soup is quite unique and the ingredients in this soup are interesting as well. This combination of the ingredients found in this soup is not new, as most restaurateurs have experimented with them.The ingredients are watermelon, cilantro, and cayenne.
The spice in the cayenne counteracts with the sweetness in the watermelon to balance it out. The cilantro provides a minty and refreshing feel to one's taste buds making it great with any meal.
Verde:
This chilled soup consists of kale, spinach, avocado and mint. The combination of this set of ingredients has been popular in smoothies and thus it was a smart move on Tio Gazpacho's part.
These are also ingredients used to cleanse one's body, which ultimately results in a refreshing sensation.This combination of bitterness, minty and sweet works great together.
In addition, kale is a great source of protein, while avocado is a healthy fat; spinach is an additional vegetable and mint for taste.
Each chilled soup must be refrigerated and consists of traditionally used ingredients in many cultures, making this is a worthwhile product to consume in terms of taste and one's overall well being.
Purchasing Tio Gazpacho
Each soup container comes in a quantity of 10 ounces, which is equivalent to a bowl of soup. The current going price is $6.50 for individual containers of soup.
Consumers can also try each and every flavor by purchasing a 6 pack for $39. Buying the pack is equivalent to purchasing individual bottles therefore; it is best to purchase individually to see if the texture is to one's liking prior to purchasing more.
Overall, Tio Gazpacho all natural soups are fairly priced, as ingredients used are of high quality and consists of no harmful ingredients that may affect someone in the long run.
In addition, each soup is in a container that is easy to drink right out of, making it convenient and time efficient.
Most importantly, consumers are certain to feel maximum comfort, pleasing taste and achieve overall wellness. For more information on where to purchase Tio Gazpacho products, check out their website.