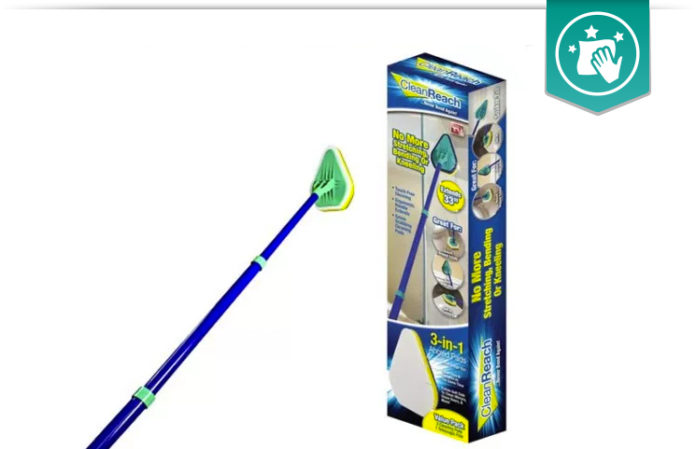 Clean Reach is a cleaning scrub brush with an extendable, ergonomic handle. This product is available online direct from the manufacturer, Amazon, or other online retailers.
What Is Clean Reach?
Clean Reach is a cleaning tool designed to help you reach and clean without having to bend or kneel. It has an ergonomic handle that extends, allowing you to reach into those hard-to-get into areas.
With its extendable handle and attachable scrub pad, cleaning becomes easier and faster.
Clean Reach helps to eliminate the need for and cost of expensive cleaning rags, rubber or latex gloves, and harsh chemicals.
How Does Clean Reach Work?
Clean Reach helps you easily accomplish all your cleaning chores with its touch-free cleaning from floor to ceiling eliminating the need for bending, kneeling, or even the use of a step ladder. It does the reaching for you!
This small cleaning mechanism has many benefits:
Its handle extends to the right length for most any cleaning job
Its contoured, 3 section, non-scratch cleaning pad angles into any tiny space
Its cleaning pad is designed to grab grime
The pad effectively and gently scrubs every surface without the need for getting your hands dirty or exposed to chemicals
No more need for struggling to reach, bend or kneel
No more need rubber cleaning gloves
No mess, no stress
Just wet the scrubbing pad and away you go, no harsh cleansers necessary
The cleaning pad has three sides: the scrubbing pad, the soft sponge, and the sides of the sponge, which allows you to reach two surfaces at once.
Using Clean Reach
When your Clean Reach arrives, simply open the box to find you get two extendable handles plus six 3-in-1 angled, cleaning pads. Snap on a pad, extend the brush and away you go. Once you start, you will be looking for things to clean. Use it to:
Glide along the top of your door frames
Clean your baseboards
Use the soft side of the pad to clean your mirrors, windows and glass doors
Reach under your kitchen cabinets
Clean the top of your refrigerator
Clean under your furniture
In the bathroom, clean your tub, shower, and tilework without having to bend down or get on your knees – just extend the handle
Reach up to clean your ceiling fans without a step ladder
And so much more …
Maintenance on the Clean Reach is also a time saver. Just rinse and let dry.
Purchasing Clean Reach
To purchase your Clean Reach, go to buycleanreach.com where they offer the following deals:
Purchase one Clean Reach set for $10.00 plus $7.95 processing and handling and receive an additional Clean Reach set for FREE, you pay only $1.95 process and handling fee
Purchase additional cleaning pads, a set of 12, for only $9.95
Please note: Sales tax will apply to orders from CA, CT and NY. An additional shipping surcharge of $10.00 will apply to orders from Alaska, Hawaii, Guam, Puerto Rico, and the US Virgin Islands.
Clean Reach Contacts
Contacting Customer Service for Clean Reach could not be easier. For questions or comments, call Clean Reach at 1- 866-684-5574 or email orderinfo@customerstatus.com.
Please call customer service to return damaged or defective items and obtain information on how to receive your refund or replacement. The company issues refunds, minus process and handling, within 30 days of purchase.
Clean Reach Conclusion
There are many products on the market that help with cleaning. Let Clean Reach be the one that helps you eliminate time, expensive products and endless reaching.