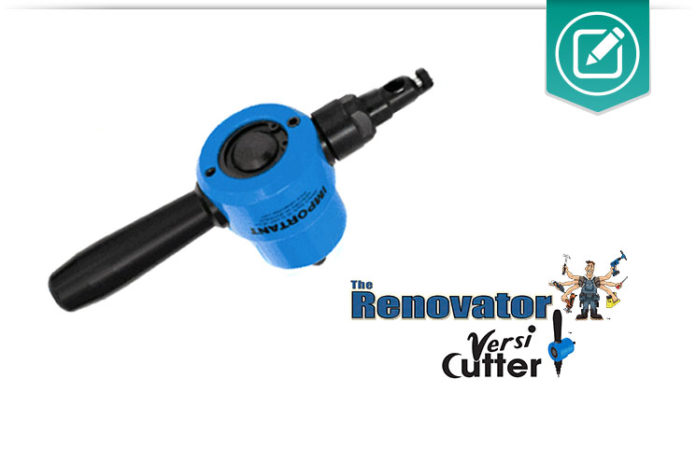 Designed with the common handyman in mind, this innovative cutting device helps people get jobs done easily and accurately whether it's home repair or art projects.
The Versi Cutter safely cuts a variety of materials from corrugated steel to fiberglass and even plastic plumbing pipes without open blades or heat.
Many consumers will recognize this product from television advertising and its reputation. Please read below to learn more about the Versi Cutter tool adapter and how to purchase.
What Is Versi Cutter?
Unlike regular power tools the Versi Cutter can tackle hard to cut products without dangerous edges, sparks, or heat. Safe for use with a variety of surfaces, the Versi Cutter can easily cut aluminum, laminates, fiberglass, steel, brass, and even denim.
Perfect for people who often repair roofing or garden sheds in hard to reach places where other power tools just cannot get the job done safely.
Each purchase comes with a free design guide that contains nearly three hundred ideas helping users get the most from their purchase. Users have found this tool handy when it comes to cutting plumbing in difficult to reach spots or areas where a spark could cause a dangerous situation.
How Versi Cutter Works
The Versi Cutter is designed to be used with any drill ranging in power from 500-1500 watts up to 3000 rpm. The versatility of this product is what makes it so appealing to the home handyman or artist. Manufactured from steel, the Versi Cutter is designed to last for years of use on the hardest to cut products.
Artists, tradesmen, home repair enthusiasts, and crafters will want to consider adding the Versi Cutter to their tool box. Interested consumers can see this product in action on the product video at YouTube which is linked from the Versi Cutter website.
Versi Cutter Components
All purchases of the Versi Cutter come with a limited warranty as well as an easy to follow instruction manual. Additionally consumers will receive two multi-purpose drill clamps to help make cutting easier and more accurate as well as a freehand cutting attachment.
For designs involving a circle pattern, the Versi Cutter also comes with an easy to use template making accurate cutting simple. The Versi Cutter is designed to fit on most makes and models of drills making it easy to share between tasks on job sites.
Who Makes Versi Cutter?
The Versi Cutter is manufactured by Brand Developers USA as part of The Renovator line of home DIY products.
Over one million people have purchased the company's first multi-tool and that led to a wide range of products including the Join-A-Jig, Paint Runner Pro, Twist-A-Saw, Extra Pair of Hands, and the Transforma Ladder.
Many consumers will recognize these product names due to the television advertising and sales. Brand Developers USA products are available for purchase online through Amazon.
Versi Cutter Pricing
Buyers can purchase this innovative tool online through the product's website or Amazon.
versicutter.com
Consumers can choose two payment options; a one-time payment of $99.00 or three payments of $33.00. Both options come with free shipping. All purchases come with a full money back guarantee.
Amazon
The purchase price for the Versi Cutter is the same on Amazon at $99.00 and also ships for free. Amazon does not offer a multi-payment option. Purchasing through Amazon may offer more customer protection if the product does not live up to customer's expectations.
Should You Use Versi Cutter?
Users with limited budget will appreciate the low price point of this tool and its versatility. By watching the online video and reading further people will find so many ways to use this tool from cutting various metals to even plastic sheeting, denim, and even fiberglass.
Whether people are working in a handyman trade or create art for sale on Etsy, the Versi Cutter offers a safe way to make quick and accurate cuts of even the most difficult surfaces.
Even grandparents have used this tool with their grandkids to create fun summer art projects using the free template ideas. Interested consumers can learn more by visiting the Versi Cutter homepage where the YouTube video is available for viewing.