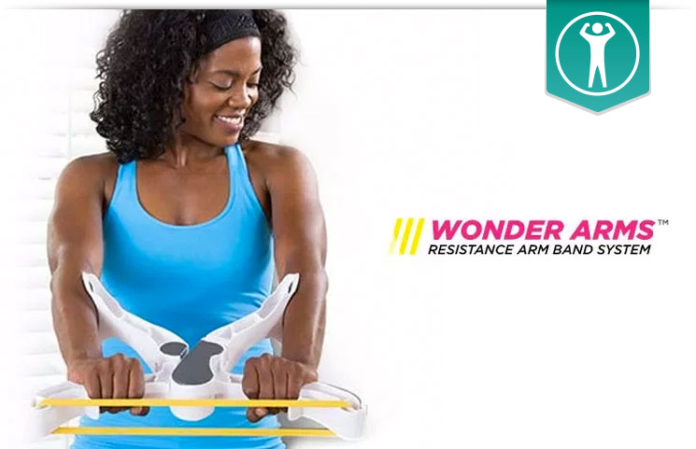 Working out your arms can be difficult because they are not a part of the body that is 'naturally' worked out (like your legs and buttocks sometimes are). As we age, fat tends to accumulate on our arms, and it can be difficult to remove it without a specialized workout. Fortunately there is now a product that will help you work out your arms and get them slimmed back down.
Today we will be discussing a product called the Wonder Arms Upper Body Workout Machine. We will be reviewing this product and helping you determine if it is the right one to help you sculpt your arms the way you've always wanted to.
What Is Wonder Arms?
The Wonder Arms Machine is a workout device that targets your upper arms, where stubborn fat can lurk. It is simple to use, and can sculpt your arms in only minutes per day!
As we get older, fat can start to accumulate on our arms as we become less active, stressed, or too busy to work out. Unfortunately, arm fat can be harder to eliminate than fat on more active parts of our body. This machine can help you eliminate arm fat and build the muscles in your upper arms, back, and shoulders to reveal a slimmer, sexy silhouette.
How Wonder Arms Works
The Wonder Arms Machine works with resistance movements that target hard to reach areas on the arms and upper body. It is a great alternative to spending hours in the gym; showing results in simply minutes per day
Other benefits of the Wonder Arms Machine include:
It can help sculpt your biceps, triceps, shoulders, and even your back
Can help sculpt chest muscles and pecs as well
May help you burn off calories as you tone your upper body
Is perfect for any workout experience level and is a great way for athletes to stay in shape if they are away from a gym and need a quick workout
Will ease the joint strain of traditional workout methods
How Wonder Arms Benefits Me
The Wonder Arms Machine can help you finally chisel off that stubborn upper arm flab you have been meaning to get rid of. It is a convenient way to work off arm fat in only a couple of minutes' time per day.
Who Makes Wonder Arms?
The Wonder Arms Machine is offered for sale on Amazon.com by Randy PetersonA. Randy PetersonA makes this product for "As Seen on TV"
Wonder Arms Pricing
The Wonder Arms Machine can be purchased from Amazon.com for $22.59 plus shipping and handling.
Wonder Arms Summary?
If you have arm fat that you want to work off, need a shoulder/back shaping tool, or just want to have another device to help you work out and stay in shape, the Wonder Arms Machine may be the right one for you to try.
For more information on this product and what it can do for you, visit their website for details.